Oyston hoping for more signings
Karl Oyston says Blackpool could still make up to five new signings before the season gets underway.
Last Updated: 10/07/11 3:45pm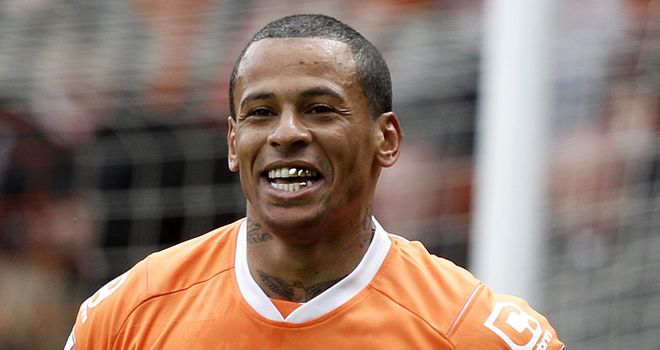 Blackpool chairman Karl Oyston says the club could still make up to five new signings before the Championship season gets underway.
It has been all change for the Seasiders this summer with the likes of David Vaughan and Charlie Adam leaving for Sunderland and Liverpool respectively.
Free-scoring DJ Campbell is also expected to move on following an impressive campaign and Oyston insists the players deserve to stay in England's top-flight.
Blackpool have strengthened with the likes of Kevin Phillips, Bojan Djordjic and Matt Hill, although the club's supremo says there are plenty more deals in the offing.
Fresh faces
"We've got two or three players in already," he told Sky Sports News. "There are two or three more that are very close and we've had offers accepted on another couple.
"So we're more or less where we want to be. I'd like to have done things sooner so that the players could have headed off to Portugal with the rest of the squad.
"Things take time. Not only have you got to agree terms with the player, there's the agent and the other club. It's difficult being a club in the Championship as the market is small.
"Everyone thinks we've got money available to us so that's another problem to overcome."
Veteran Barry Ferguson is another name that has been mentioned and Oyston insists more work needs to be done before the Scot joins.
"We're waiting for one or two calls back on that one," he continued on Ferguson.
Youngsters
As part of the deal that saw fans' favourite Charlie Adam join Liverpool, Blackpool could be landing two of the Reds' top prospects.
Youngsters Gerardo Bruna and Thomas Ince are holding talks with the club and will be joining if personal terms can be agreed.
"There are two players coming the other way if we can agree personal terms with them," he continued.
"They are two that should figure and be part of the future. It's good to have two players coming the way. It's not replacement of course."
Oyston is sad to see the likes of Vaughan and Adam leave and he accepts that Campbell is likely to follow suit in the coming weeks.
Ex-Leicester man Campbell is available for a knock-down £1.25million price and Oyston expects him to find a new Premier League club.
Forward
"Sometimes you have got to take a step back to move forward. A few players have gone that we didn't want to go.
"Charlie's gone to Liverpool. That was probably the worst kept secret in football.
"We wish him all the best. He's done terrifically well since he came down from Rangers.
"I think he'll definitely flourish at Liverpool surrounded by all those good players.
"David Vaughan was probably our best player. He's gone to Sunderland and I'm sure he'll do very, very well for them.
"I'd imagine DJ Campbell will certainly sort out his future out somewhere else in the next week or two.
"They've done enough to earn themselves quite rightly the opportunity to go and play in the Premier League and stay there. That's testament to how good they are."