DJ could return in a month
QPR's DJ Campbell could be back in action for the Premier League club inside a month as he recovers from a fractured metatarsal.
Last Updated: 16/11/11 8:50pm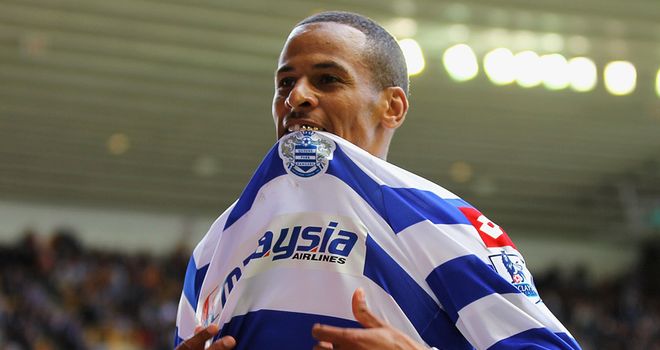 QPR striker DJ Campbell could be back in action for the Premier League club inside a month as he recovers from a fractured metatarsal.
The 30-year-old marksman has not featured for Neil Warnock's side since their defeat to Fulham in October after injuring his foot in training.
Campbell is now four weeks into his expected eight-week stint in the treatment room and physio Nigel Cox has revealed the striker is recovering nicely.
The ex-Blackpool hit-man had his protective boot removed on Monday afternoon and will be gradually increasing his activity in the coming weeks.
"DJ had a pin put into the toe on October 20th, and he is coming along very well," Cox told the club's official website.
"He is out of the boot after three weeks and now we will gradually increase his activity.
"We could see him back and available to the manager in the next three to four weeks."
Treatment room
The Loftus Road treatment room remains busy and Cox has also given an update on Kieron Dyer, Matt Connolly, Fitz Hall, Akos Buzsaky and Bradley Orr.
Cox believes Buzsaky and Orr, who have both been suffering from Achilles problems, should be in contention for this weekend's clash with Stoke.
"Kieron Dyer is doing really well at the moment," Cox said. "He suffered a ligament sprain to the forefoot in our opening game of the season against Bolton.
"It was a very delicate injury and we have had to take our time with it, but he is now finally free of his controlling boot and is able to do some running.
"Matt Connolly has been out with an ankle sprain he suffered in training. He is now back running and doing functional movements, so we are hopeful he will be returning to the squad in the not-too-distant future.
"Fitz Hall suffered a hamstring injury in our game at Tottenham. He has been working hard to overcome that and he could be in line to feature in the squad for this weekend's trip to Stoke.
"Akos Buzsaky missed our game against Manchester City owing to an Achilles problem. He has had an anti-inflammatory injection into the area to calm that down and returned to full training this week. Now we will see how he reacts.
"Bradley Orr has had a similar problem, and he had an injection last week as we took advantage of the international break.
"The pair returned to full training this week and have been flying. All being well, they could both be in contention for Saturday."