Ex-West Ham boss Gianfranco Zola relishes Watford challenge
Watford boss Gianfranco Zola says his passion for football has returned following a difficult period as West Ham boss.
Last Updated: 02/10/12 11:48am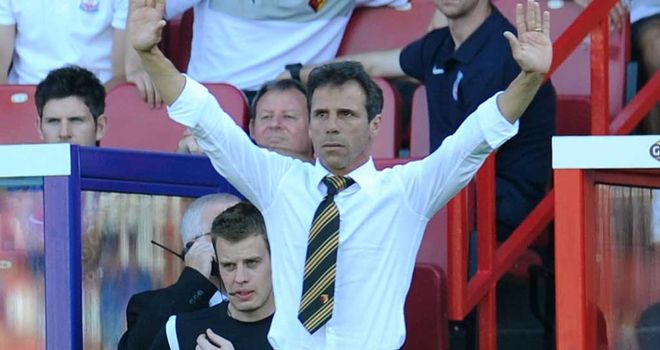 Zola, who was dismissed by The Hammers in 2010, said he had not missed being involved in the game one bit.
The Italian said in The Guardian: "I didn't miss it for one whole year. I was exhausted physically, emotionally and mentally it takes a lot out of you.
"I really was tired and I also needed to catch up with so many other things in my life. But after one year I started to think about football again."
Zola was appointed boss of the Hornets in July as the Pozzo family took control of the club. The ex-Chelsea star is relishing the opportunity he has at Vicarage Road.
He said: "This is a long-term project. I like working with young players. But I also like the family's idea that we will work first on the quality of football and then the results will follow.
"I have no doubt about the quality of the players, but you have to turn them into a team. If you have no unity and compactness you will struggle."
The Pozzo family have brought a host of new players to Watford, including a host of players on loan from Udinese, who the Pozzo family still own.
Zola has called for patience because of this as the club go through a transitional period.
"People have to be patient because it's not easy. We have a lot of new players coming in and they need time to settle.
"We are not playing to win the Championship this year, our supporters know this. For us it's a transition year."