Dave Jones cut a dejected figure after another mistake cost Sheffield Wednesday dear in a 3-1 defeat at Middlesbrough
Sheffield Wednesday boss Dave Jones was again frustrated after his side slipped to a 3-1 defeat at Middlesbrough.
Last Updated: 10/11/12 8:18pm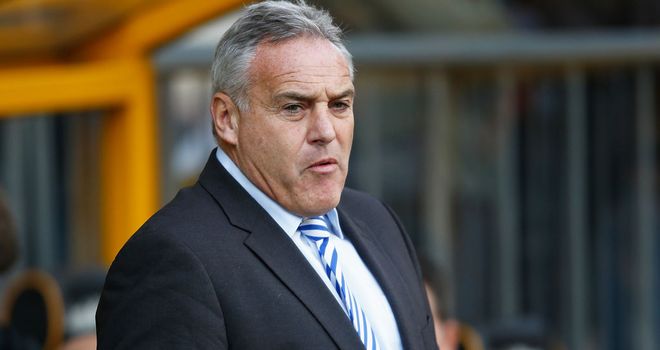 Gary Madine had dragged the Owls back into the contest early in the second half but a sloppy pass led to Ishmael Miller slotting in Boro's second after which there was no way back for the visitors.
"I'm getting fed up of saying it, I'm so frustrated," said Jones. "We've wrestled the game back then we commit football suicide.
"Why we're playing the ball in there I don't know. It's just beyond me. And the first goal came from their first attack, they played inside us and we're stepping forward.
"It's so hard on the players because they worked so hard to get back into it. They were probably taking the game to them and the crowd were getting a bit frustrated but they didn't have to break us down, we broke ourselves down.
"We committed a suicide pass and I get so frustrated."
The Owls' fifth away defeat of the season, following promotion from League One, sees them remain 20th in the table and Jones is already concerned that time is running out.
"Every game we've played this season, we've been in it," he added. "We're trying to develop and nurture a culture within the club, and I feel that they're working really hard but the step up is something that the players have to adapt to.
"Sometimes you haven't got the time, and my chairman will want it done now. People don't give this division the credit it deserves. It's a massive step up."