Leeds United's new owners warn fans they will not be spending "crazy money"
Leeds United's new owners outlined their vision for the future of the club after completing their £52million takeover.
Last Updated: 21/12/12 1:10pm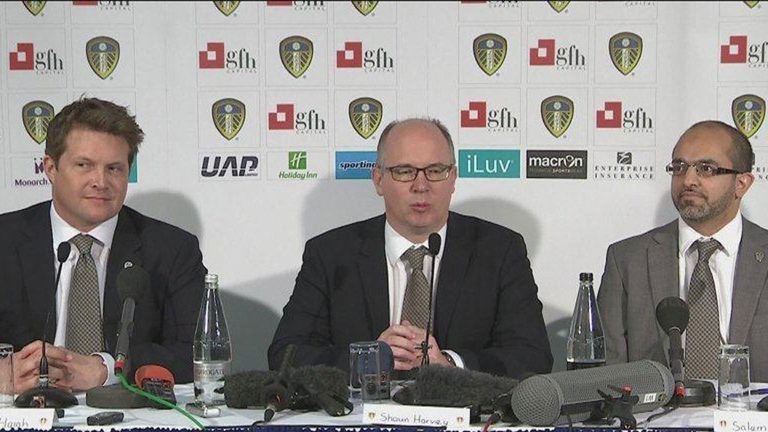 Speaking at a press conference on Friday, Salem Patel, a member of the GFH Capital board, described the Dubai-based bank's intentions to provide a "sustainable and successful future" for the west Yorkshire club but have vowed not to spend "crazy money".
He said: "Leeds United is a great football club with a great history, pedigree and a fantastic base from which we can build the club.
"We looked at a number of clubs but Leeds was the most attractive for those reasons.
"We hope to bring back the type of atmosphere we witnessed on Wednesday (in the Capital One Cup defeat to Chelsea) where, although the result wasn't fantastic, the atmosphere and crowd - it was absolutely fantastic on the night.
"Obviously it's going to take investment and we wouldn't have bought a club like this if we weren't prepared to make that investment.
"What we want to say is that we're not going to be spending crazy money like some owners have. We want to make the investment sustainable and make the club successful. Simple as that."
Patel was immediately quizzed on what shape that investment would take in the transfer window and whether funds would be made available to manager Neil Warnock in January.
He said: "January is not a great time to do business. Thankfully we already have a good squad and we have a few players coming back from injury.
"Neil has already publicly stated what he wants and we are going to do our best to help him achieve that.
"If you're going to ask me what amount of money we are going to spend in January, unfortunately we are not going to be able to answer that."
Fellow director David Haigh, a Leeds fan, claimed they had bought "the best club in the world" before going through his plans.
He stood down the rumour that he will replace Ken Bates as chairman when the veteran leaves the post at the end of the season, while also revealing that Warnock staying on board was part of the criteria for the purchase.
"He is our man and one of the reasons we decided to buy this club in the first place. The guy is a legend in English football and it was a requirement of the contract," Haigh said.
Warnock is chasing a record eighth promotion and Haigh added: "We don't want to put a timescale on our investment but we want to make this club as successful as we can in the shortest time possible.
"We've been speaking to Neil and we will try our best to meet whatever needs he has and to be fair to us, we have already invested in the team.
"We've been speaking to him on and off since the summer to be honest. We very much assisted him with his plans in the summer and hope to continue to do so."
Haigh and Patel also outlined their long-term plans to buy back the club's Elland Road ground.
Don't miss any live and exclusive football coverage this festive season. Click here to visit Sky Sports' Festive Calendar