Leeds United owners reject investment offer from Yorkshire consortium
Leeds United owners GFH Capital have rejected an offer from a Yorkshire consortium to buy a majority stake in the club.
Last Updated: 11/02/13 8:18am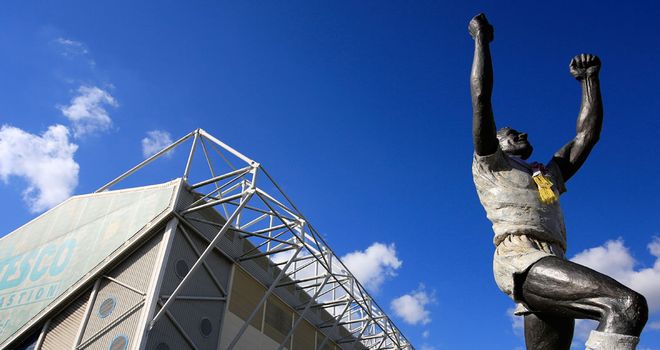 It was reported that the unidentified group was bidding for a 51% initial share with a view to a phased buy-out.
However, a statement on the club's website by GFH Capital, the Dubai-based investment bank who completed the takeover from chairman Ken Bates for around £52m in December, read: "The most recent offer has not been accepted.
"Although we continue to seek strategic investors, we will only bring on board those who we feel can make a positive contribution to the sustainable success of Leeds United."
Bates is still chairman and is set to become honorary president at the end of the current campaign. They are 11th in the championship and five points away from the play-off spots.
GFH expressed their satisfaction at what had been achieved since announcing they had acquired the club on 21 December by saying they were "delighted with the progress".
The statement added: "On the pitch, we were thrilled to bring in quality players such as Steve Morison, Michael Tonge, Stephen Warnock and Ryan Hall.
"They, along with our extended contracts for El Hadji Diouf and Sam Byram, are great additions to the squad and will provide a great boost as we head further into the second half of the season. There is also the FA Cup 5th Round tie against Manchester City to come and we know you are all as excited about that as us.
"Off the pitch, we have made significant investment of working capital that was crucial to keeping the club running. On top of producing the best results on the pitch, it is our aim to expand and strengthen the Leeds United brand both here in Leeds and across the globe with the thousands of fans that follow the club from abroad."
Uncertainty and speculation of staff changes continue to hamper manager Neil Warnock, whose contract expires in May, with the club's Supporters Trust demanding the situation be clarified.
Warnock, however, is staying cool on his role and said on Friday: "My future will be decided on the field anyhow. I wouldn't be here if I didn't think we could still get promotion."