Michael Appleton believes goalkeeper Jake Kean's work ethic has been key
Michael Appleton believes Jake Kean's work ethic has been a key factor in establishing himself as his number one.
Last Updated: 21/02/13 5:20pm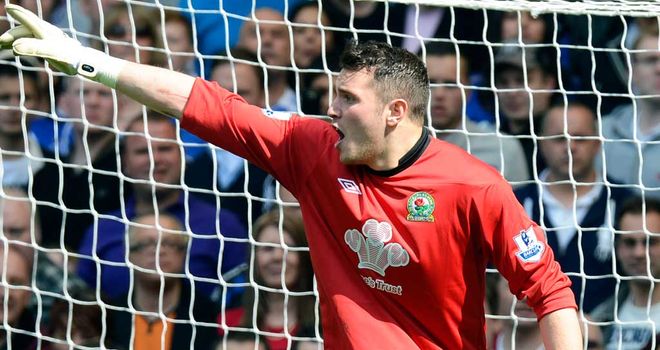 The 22-year-old usurped former England international Paul Robinson during Henning Berg's ill-fated time in charge at Ewood Park and has started the last 14 league and cup games, winning rave reviews.
Kean, a former Derby youngster who has spent time on loan with Hartlepool and Rochdale, played a starring role in last weekend's shock FA Cup victory at Arsenal and once again performed heroics in a losing cause against Hull on Tuesday night.
"He's been given an opportunity and he's taken his opportunity - that's what happens in football," said Rovers boss Appleton.
"You never know what's round the corner, that's why you should never rest on your laurels, you should always be thinking ahead and about what might happen ahead.
"He's done that and I think the biggest thing about Jake is he's working closely with (goalkeeping coach) John Keeley, who's pushing him hard all the time.
"I see him in the analysis room, him and John, every other day looking at bits and pieces he can improve on. John's always showing him the video work to see how he can move his feet or work his hands better."
Meanwhile, after a fruitful time in the transfer market since being installed as Berg's successor last month, Appleton is hopeful of further additions while the emergency loan window remains open.
"In an ideal world, yes (we will sign more players), but we don't live in an ideal world," he added.
"There's one or two that I would like to add but it doesn't shut until the last week in March so don't be surprised if there's another one at least who comes through the building."