Tony Mowbray says he is confident Middlesbrough's scouts will get it right
Middlesbrough manager Tony Mowbray is confident his scouting team will find the right players for the club this summer.
By Graeme Bailey - Tweet me: @graemebailey
Last Updated: 19/04/13 7:03am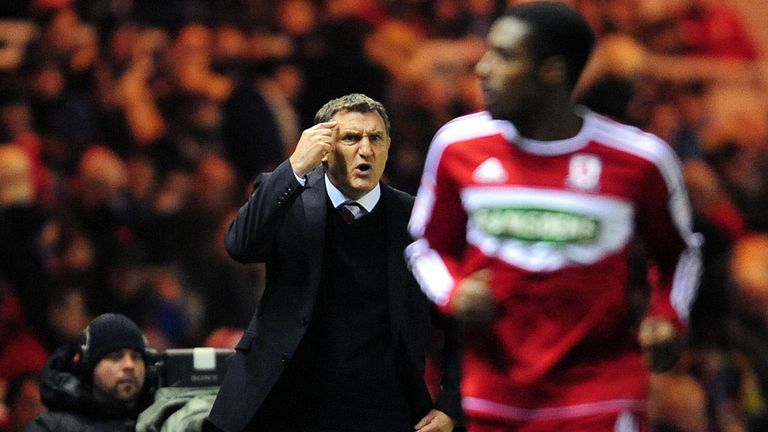 Boro have, for the second season running, collapsed at the turn of the New Year after beginning the campaign well.
Mowbray brought in the likes of Muzzy Carayol, George Friend and Emmanuel Ledesma from the lower leagues - all have done well, and the Boro boss wants more of the same.
"Over the last nine years of management we've found players from nowhere who have done well, and at this club that is the remit at the moment," he told the club's website.
"The challenge is to try to find more talented young players who are maybe bubbling underneath in the lower leagues or abroad in the second division of French, Belgian or Dutch football.
"We've invested in a scouting system and we've got a record of doing it - Graham Dorrans came from Livingston and was the Championship Player of the Year and Youssouf Mulumbu came from PSG's second team and is now a fixture in the Premier League.
"We have to try to do that for Middlesbrough. The team needs building and pulling together. There's no scope to bring loads more players in so we're looking at players who come in at prices and salaries that don't hurt the football club."
Mowbray says Boro have to adapt to new Financial Fair Play rules.
"We're trying to build a football team from the financial situation we inherited, it's not an easy task. We've talked about how we're going to get a better football team with finances coming down and we think it's with good scouting," said Mowbray.
"The building process will go on this summer because there will be some salary opened up to use. Sometimes you have to sell somebody to bring some money in. You have to do business.
"Gary Gill [chief scout] is always out watching football matches in Europe and in this country. We have meetings about it every week. We need to find some talented players like Carayol, Friend and Ledesma."
Mowbray also says he understands fans frustration at Boro's lack of progress this term.
"We get judged on results because it's a results business yet trying to build a football team is very difficult," he said.
"We want to finish the job we've started and always knew was going to be a long-term one. But we understand that if you don't win football matches the pressure mounts and supporters get irritated and think there's a Jose Mourinho waiting round the corner to come and change everything with a magic wand.
"That's football and I understand that. Everyone has their opinion on the team and on the results. And yet I'd have to say as a team we haven't been as bad as the results we've had over the last few months just as we probably weren't as good as the results we had over the first few months of the season.
"In the world of football, if you get beaten you must be rubbish and if you're win you're okay.
"My nature is to keep fighting. This club has shown that sort of resolve over the last 30 years - if we hadn't, where would we be?
"We built a big expectation in the first half of this season that we were going to do it this year. Yet we'll finish in this league where we ultimately deserve to with the group of players we've got.
"We have to deal with the reality that we haven't won enough football matches. I only want to see this team, this club and this town prosper. The chairman feels the same and understands the problems of the last few years and I would like to think supporters understand that as well."