Wolves boss Dean Saunders defiant after 2-0 defeat at Brighton confirms relegation
Wolves boss Dean Saunders insists he is not walking away after relegation was confirmed with a 2-0 defeat to Brighton.
Last Updated: 04/05/13 7:09pm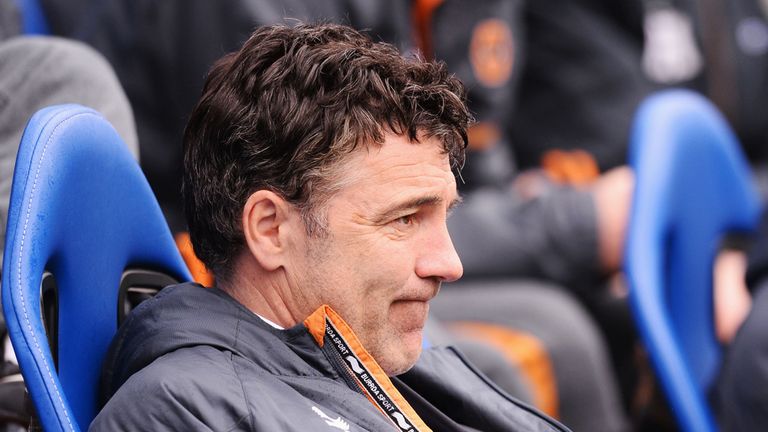 The result condemned Wolves to a second successive relegation and meant they will join Peterborough, who lost 3-2 at Crystal Palace, and Bristol City in League One next season.
Saunders said: "It's a massively disappointing day for everyone and I am devastated.
"The game was symptomatic of our season - we missed chances and just couldn't put the ball in the net and Brighton did.
"We played some decent football but it is all about the end product.
"As soon as that final whistle went I am now starting to rebuild the football club because we have to move forward now.
"I shook all the players' hands and then from now on I am starting again.
"Sometimes it takes hitting rock bottom before you realise it has got to change, and I have got to change everything and rebuild the club.
"I knew what I was coming into when I walked into the club - I have done this before with clubs who have been struggling and had lots of problems.
"I have no hesitation in wanting to try and take this club forward.
"The fans were absolutely magnificent today and they have been magnificent since I came in.
"They have had lots of bad weekends over the last three or four years - lots of pain - and they deserve a whole lot better.
"I feel sorry for that and I feel obliged to do something about it.
"I need to get players into the club who are going to put the shirt on, be proud to wear the shirt and get the culture right at the club.
"We need hungry players who will be delighted to come and play for Wolves and will roll their sleeves up and have no mental baggage.
"I knew there were problems here and the situation I was coming into.
"Things can't be right as I am the fourth manager in just over a year and there are four groups of players.
"Things can happen and has happened to clubs like Leeds, Nottingham Forest, Norwich, Southampton.
"We need to hit the ground running next season and we have to do something similar to what Brighton have done."