Chairman Steve Morgan despondent as Wolves are relegated to League One
Wolves' chief Steve Morgan is 'left dejected' after seeing the club relegated for a second straight season.
Last Updated: 05/05/13 10:36am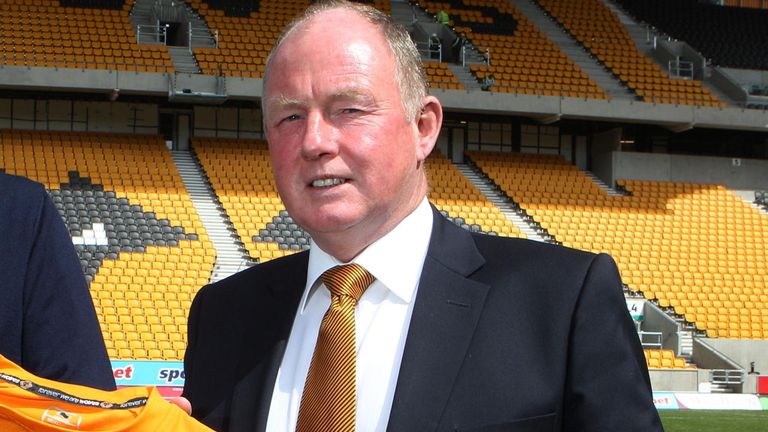 The Midlanders were beaten 2-0 by Brighton on Saturday, a result that confirms they will play their next campaign in League One, one year after losing their place in the top tier of the English game.
And Steve Morgan admits finishing 23rd in the Championship table is disappointing and that 'mistakes have been made on and off the pitch.'
Morgan said in a statement on the club's website: "Today is a sad day at the end of what has been a horrendous season.
"Relegation is a devastating blow for everyone who loves Wolves. As chairman of the club I take my responsibilities very seriously.
"We are all looking at ourselves in the mirror and reflecting on what went wrong. It is only right the players do the same.
"Many of them know they have not performed to the standards they are capable of and they must take their share of the responsibility.
"The extensive injuries which hit us at a crucial time in the season did not help our plight.
"Clearly a lot of mistakes have been made over the past two seasons, although every decision has been with the club's best interests at heart, and we have clearly got some of those decisions wrong.
"It's not been good enough and we must improve both on and off the pitch.
"Next season is going to be very difficult. We must restore pride and passion into the team, rebuild our reputation and regain the trust and support of our fans.
"Quite naturally a number of players will leave in the summer but they will only go if it is right for the club. Perhaps we should have moved more players on in the past two seasons but we honestly expected this group of players would be good enough to be successful in the Championship.
"I'd like to thank personally, again, all our supporters who have put up with such disappointment and frustrations over the past two seasons. I know the fans are fiercely loyal but I equally know they are really suffering right now. We all are."