Championship: Brighton launch dressing-room probe
Brighton have launched an investigation after excrement was found on the floor of the Crystal Palace dressing room.
Last Updated: 18/05/13 1:41pm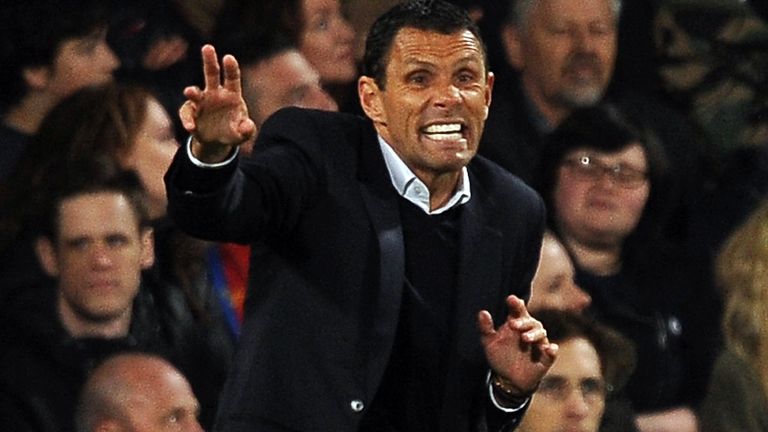 Club sources confirmed the incident on Saturday, reported by The Sun, had occurred.
It sparked a furious email to club staff from Brighton manager Gus Poyet, whose side lost the home leg of the semi-final tie 2-0 to miss out on a shot at promotion at Wembley.
Poyet was suspended by Brighton on Thursday along with assistant manager Mauricio Taricco and first-team coach Charlie Oatway, however it is understood the club are not pointing the finger for the dressing-room incident at any of the trio, and have an open mind as to who was responsible.
Poyet's email to employees, reported in The Sun, said: "I am angry that someone within this club could endanger our good reputation and stoop so low.
"Did they imagine that this would affect the Crystal Palace players? Well possibly it did. It may just have fired them up more.
"Well someone made a very bad decision and I think it is time to stand up and take responsibility. Not just the culprit but those employees who are supposed to make our stadium safe and secure."
Poyet, who has been linked with a move to Fulham as well as taking over from David Moyes at Everton, also criticised the club's marketing ploy to create more noise inside the stadium by handing clappers to the home fans.
He added: "It was an extremely silly idea and the result was an annoying noise."
To compound a miserable week for Poyet, he has also come under fire from midfielder Vicente, who was released by the club this week after making just 18 starts in two injury-hit seasons.
Vicente, capped 38 times by Spain, told The Argus: "He is the worst person I've come across in football. For me he is a selfish person, very egocentric. I say that because it's how I feel.
"I won't talk badly about my team-mates, because they have been fantastic with me. What I think is unacceptable is that the manager makes fun of his players. I've seen things here that I have never seen in my career. If you miss with a shot in training, he makes fun. For me, that is unacceptable in football."