Preston have denied reports of inadequate stewarding against Blackpool
Preston North End have hit back at claims of insufficient stewarding during their victory over Blackpool on Monday.
Last Updated: 06/08/13 4:01pm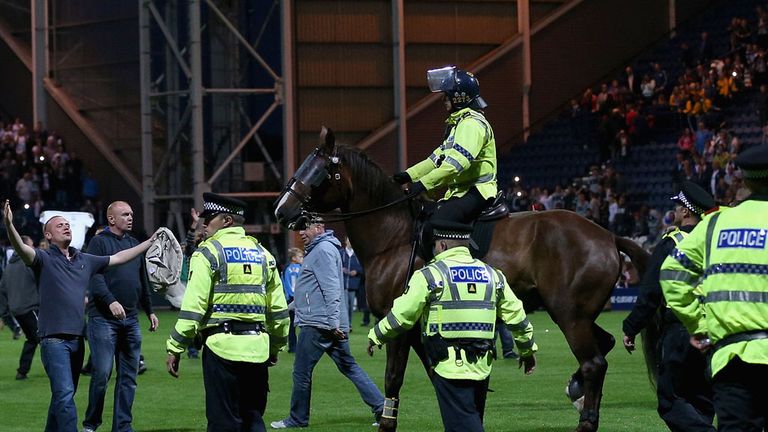 Following the 1-0 win over their rivals, a number of home fans invaded the pitch prompting visiting manager Paul Ince to question whether the security was high enough for such a derby match.
One steward was trampled on by a police horse but did not require hospital treatment, while another was injured in a separate incident.
But in a statement, Preston said: "Following a number of media reports immediately after our 1-0 win against Blackpool in the Capital One Cup we feel it is important to make the following statement.
"Last night's Cup tie was attended by 17,470 fans some 4,400 from our visitors Blackpool.
"Given the historic rivalry between the two clubs we ensured that our ground safety pre-match planning considered all aspects of potential crowd issues to ensure that all supporters could attend the match in a safe environment.
"This pre-planning included a significant increase in stewarding and also appropriate Police presence both inside and outside the stadium.
"At the final whistle a number of supporters (approximately 200) ran onto the pitch in celebration at the result.
"This incursion onto the field of play is totally unacceptable and is condemned by everyone connected with Preston North End Football Club.
"The measures that had been put in place in anticipation of such an event worked as planned and at no time were rival fans in contact with each other and the pitch was cleared as quickly as possible.
"Contrary to early press reports the steward that was seen on TV in contact with a police horse was not taken to hospital and went home with colleagues after being given the all clear by medical staff at the ground.
"The only steward to receive any injuries at the stadium was working in a part of the stadium occupied by the visiting supporters.
"In reiterating that any invasion of the pitch is unacceptable, we would like to commend the police and stewards for responding in a timely and appropriate manner."