Championship: Sean Dyche hails Burnley strikers after 3-0 Charlton win
Sean Dyche praised Sam Vokes after Burnley's 3-0 win over Charlton, whose boss Chris Powell tried to remain positive.
Last Updated: 29/09/13 7:33am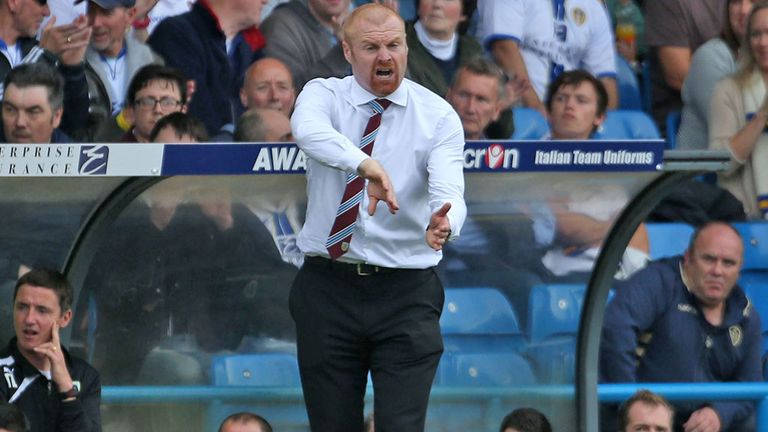 Vokes scored twice - and could have netted a late hat-trick - as the Clarets kept up the pressure on league leaders QPR with a hard-fought 3-0 win over Charlton at Turf Moor on Saturday.
Danny Ings also scored as the Addicks, stricken with injuries and a lack of confidence, saw their miserable start to the season continue.
Dyche could not have been happier with the character and team spirit his side displayed, silencing those who questioned his summer training methods, which included lugging tractor tyres around a field in Ireland.
"Sam Vokes has been very good for us and I had a chat with him in the summer and he's certainly grasping the nettle," said Dyche.
"The front line always get the headlines but they are getting great support from the group. We're defending well and Tom Heaton isn't having masses to do. But that said he's made big saves when he's needed to.
"They (Vokes and Ings) are enjoying it. I made it clear when Charlie (Austin) left that this was an opportunity for them to become their own version of him and that is what they are doing, making a good name for themselves.
"We made it clear to the group that we wanted to build the team ethic and the open-mindedness of being in it together.
"Team building is an easy thing to say but not to do. Players need to take ownership of it and they are doing that.
"There is respect and honesty in the group and that is an invaluable quality."
Powell focus
In contrast, Charlton manager Chris Powell is desperately seeking some inspiration for his team.
The Londoners have not won in the league since late August, a run of four games producing just one point and leaving them uncomfortably close to the drop zone.
"We're at the different end of the spectrum to Burnley at the minute," he admitted.
"They're playing with confidence and they hurt us with that result today and we're in a tough situation at present but we'll have to find a way through it.
"All we can do is prepare for the next game. We can't change any event that has happened previously.
"We've got a game coming up against a decent Forest side and whether that is a good or bad thing we've got to prepare for it and try to turn it around.
"We're missing a few key players and we've introduced a lot of young players. We've looked at a few different ways of playing but the players, me and my staff have to turn it around whether that's a lucky goal, a point to get us going.
"We'll have to get back to basics."