Championship: Paul Dickov was reflective after Doncaster lost 3-1 to Brighton
Paul Dickov rued Doncaster's misfortune after Brighton won 3-1, while Seagulls assistant Nathan Jones was left relieved.
Last Updated: 02/11/13 7:03pm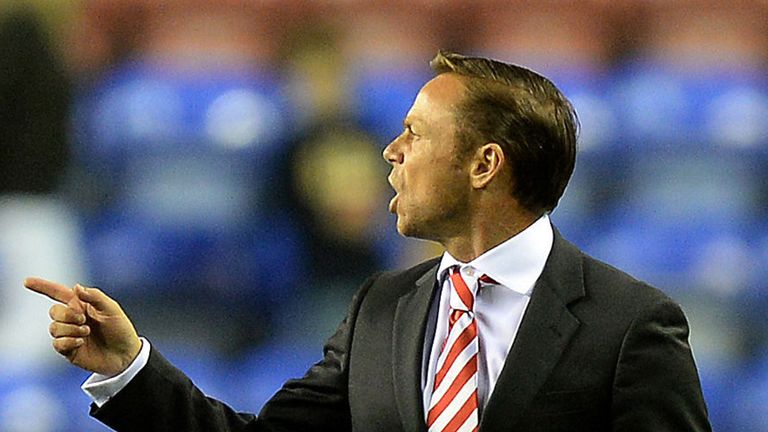 The Seagulls had not scored for four successive away games but put that right in South Yorkshire as super strikes from Jake Forster-Caskey and David Lopez, and a close-range effort from Leroy Lita, gave them three points.
Forster-Caskey fired in a 35-yard strike with his left foot early in the first half, and Lopez put the seal on victory with a fine late free-kick.
Doncaster had briefly gone level when Chris Brown flicked home a free kick from Mark Duffy in the 74th minute, but they were left licking their wounds.
Dickov had been unlucky when striker Theo Robinson was injured before the game, and captain Rob Jones then had to be replaced in the starting line-up after suffering a blow in the warm-up. Former Manchester United apprentice Luke McCullough came in for his debut.
Dickov said: "We looked a bit nervy and tentative in the first half - whether that was because we've just had a couple of defeats, or because of the circumstances and changes we've had to make before the game, I don't know.
"But we had a few words at half-time and we were much better after the interval.
"After we had equalised it looked like we might go on and win the game but we conceded a really scrappy second goal after the ball had bounced about in the area following a corner.
"The other two we couldn't do much about because they were a couple of strikes out of this world.
"But we showed what we could do in the second half, that we are not a bad team and that we can compete.
"There were positives to come out of the game and we will just carry on and aim to finish as high as we can."
Doncaster have lost three in a row and sit just a point outside the Sky Bet Championship relegation zone.
"We always knew there's a possibility of having a run like this and losing one or two in a row," Dickov said, "but you can just as easily turn things round by going on a winning run in this division."
Brighton assistant manager Nathan Jones admitted the visitors may have been a little fortunate, but the return to scoring form and winning ways away from home was welcome.
"It's not been for the want of trying and we have probably played better and been beaten," Jones said.
"The final score probably flattered us a little bit because Doncaster put us under a lot of pressure in the second half and we scored a couple of unbelievable goals to help us win the game."
Brighton also hit the crossbar with another spectacular effort from Ashley Barnes just before the busy finish.
Jones said: "We're very happy with the result, particularly with the way we played in the first half.
"We let it slide a little bit after the interval but that's all credit to Doncaster who put us under a lot of pressure and we couldn't get our game going.
"When they equalised we changed things slightly and tried to be positive with the substitutions we made.
"At the end of the day it's a couple of quality strikes and a great little poacher's goal that won us the game.
"We've had horrendous luck with injuries and it's just a matter of getting through that and picking up points along the way.
"I thought we showed a lot of resilience under pressure and determination to win the game.
"We didn't create as many chances as we have in some other games but we're delighted with the outcome."