Neil Bausor says Middlesbrough will not pile pressure on new boss Aitor Karanka
Middlesbrough chief executive Neil Bausor insists that they will not be heaping pressure on new boss Aitor Karanka.
By Graeme Bailey - Tweet me: @graemebailey
Last Updated: 14/11/13 10:29am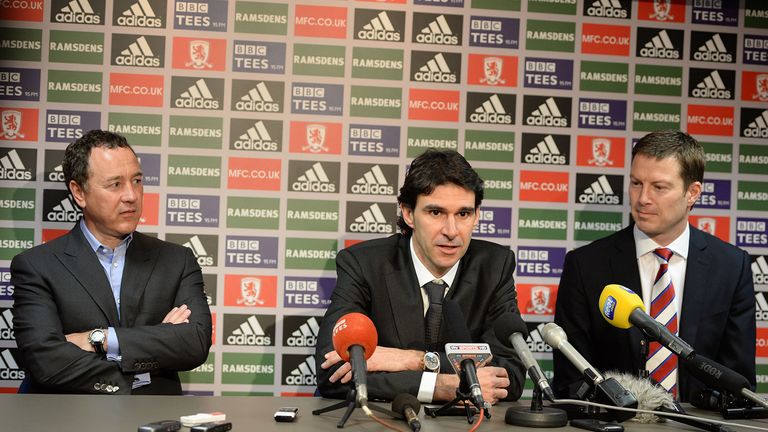 The Spanish-speaking Bausor played a big part in bringing Karanka to the Riverside and, although he admits the Premier League is the ultimate goal, they are not setting too many targets.
"We will not put any pressure on Aitor, he is in football to win, and we are," Bausor told Sky Sports.
"He knows what he wants, he has a strong personality and he knows where he wants to take the club and we are right behind him in that challenge.
"He is about ambition and has a huge desire to succeed, he has been working for a manager and coach whose hallmark has been success and winning, and we think he has those qualities too and can bring them to Middlesbrough."
Bausor admits that bringing Karanka, whose last post was assistant manager to Jose Mourinho at Real Madrid, to the club represents something of a coup for them.
"It is very exciting, we have worked hard to secure what we believe to be an excellent coach for Middlesbrough Football Club and hopefully a coach that will take us forward in our next phase of development.
"Aitor's record as a player speaks for itself, he has some excellent experience as a coach and brings a winning mentality and attitude to the club, and some fantastic coaching techniques which we hope will bear fruit."
The Boro chief does admit that appointing their first foreign manager in the club's 135-year history was a big step, and not one they took lightly.
"It took a lot of deliberation, but I think as Steve Gibson [chairman] said we decided to open our minds and boundaries away form the traditional ones and we feel we have made the right choice," he said.
And Bausor admits that the departure of Tony Mowbray was a huge decision for the club to take.
"It is really tough, Tony was a great guy and I worked with him every day and I saw how hard he worked to try and get success for the club," he said.
"But unfortunately that did not happen and, as Steve said, we had to make a decision and we made that decision. We have been trying to get through that for the last few weeks and we are now looking forward with Aitor to hopefully some success."