Former Middlesbrough star Gaizka Mendieta linked with role under Aitor Karanka
Gaizka Mendieta has refused to rule out the prospect of working under Aitor Karanka at Middlesbrough.
By Graeme Bailey - Tweet me: @graemebailey
Last Updated: 13/11/13 10:48pm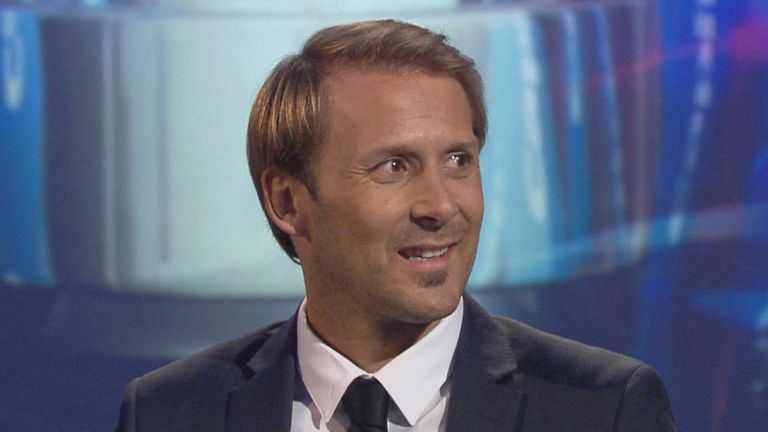 Mendieta, who is a regular on Sky Sports' Spanish coverage, is still based in the North East after ending his playing with Boro in 2008.
Currently doing his coaching badges, Mendieta has admitted he is keen to move into that side of the game and he is now being heavily linked with a role as part of Karanka's new backroom team at the Riverside.
Mendieta has already wished Karanka good luck, via text - as revealed by the new Boro boss at his press unveiling - but the former Barcelona and Valencia ace so he has not talked about any role.
"There has not been any contact at the moment," he told Sky Sports News Radio - revealing that he does know Karanka.
"We played together in the Under-21s and Olympics and we had a few years together, after that we played against each other and in the Spain national team so yeah we know each other quite well."
He does admit he would consider any offer that comes his way.
"It is something that has not happened and if it does happen in the future I will consider the options but there is nothing on the table.
"I am getting my badges at the moment and is something I would like to do eventually in the future, when and how only time and circumstance can determine that."
Mendieta revealed just how highly Karanka is thought of back in Spain.
"He is thought of highly, from his football career and he has been in Spanish federation same time as Del Bosque [current Spanish coach], so the Spanish federation is thinking of him as one day he will be a great manager," he said.
"And in terms of Mourinho he has learned experience from him and managed some of the sessions and some of the games as he allowed his assistants to do jobs, so he knows what to do."
He believes Boro have made a good move with Karanka, adding: "Only time will tell, obviously it is his first job as club manager, we will see how he develops - he has been coaching youth teams in Spanish federation and has been with Mourinho for three years so he has knowledge of the game, but now is time to deliver as a main man.
"It is a new start and a statement from the club in the direction that they want to go and it is exciting times for Middlesbrough fans, and could be exciting times over the next few years.
"I don't think Mourinho would recommend anyone he didn't think was capable of doing a job.
"At the moment it is a club set up for a different manager so I am sure he will have to make changes as soon as he can, probably the real idea of the real Aitor Karanka will be next season when he has control of new players and those leaving and will be in charge of how they are playing.
"But it needs time but hopefully results will go his way."
He does not think Karanka will have an issue settling into Teesside life.
"I don't think the football will be a problem, as he is a top level coach and he will familiarise himself with English football - it will be a change for him after living in Madrid, a different culture but he will be busy so I am sure he can do it, I did it so I am sure he can," he said.
Mendieta admits he still thinks a lot about Middlesbrough, despite his departure not being handled as well as it could have been.
"It was great, three or four years not so much the last year - I don't think the club did everything they could in dealing with my personal situation but with the fans and the people working in the club, yeah I am very fond and in contact them and it is somewhere I had a great time."
Listen to Gaizka Mendieta's exclusive interview with Sky Sports News Radio