Steve McClaren is fully focused on returning Derby to the Premier League
Former England boss Steve McClaren is loving life at Derby County as he seeks to guide the Rams back to the top flight.
Last Updated: 04/01/14 1:46pm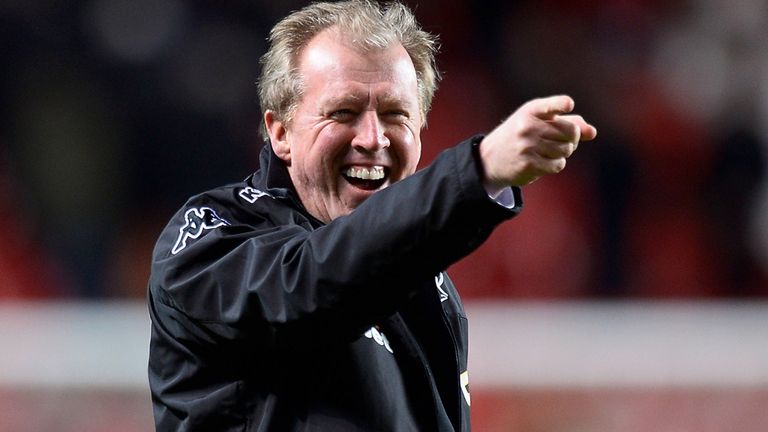 McClaren joined Derby in September and has overseen a meteoric rise up the Championship table, winning ten of his 14 games in charge to sit fourth in the table.
Next up is Sunday's home glamour FA Cup tie with Chelsea, but McClaren, who was dubbed the 'Wally with the Brolly' after failing to lead England to the Euro 2008 finals, is firmly focused on leading his side back to the Premier League.
The former Derby player says he is a better manager now than when he was England boss and he plans to use all his managerial experience gleaned at home and abroad - where he was manager of FC Twente in Holland twice and Wolfsburg in Germany - to bear on getting the Rams back to the big time.
He told The Sun: "I've been through crazy years, mad years, with real lows and real highs.
"I've been over ambitious at times in the past. I've been too impatient and it's been my downfall at a couple of places. I don't want it to be my downfall here.
"I'm at the stage now where I should be using all that experience I've gained. Am I a better manager now than when I took over England in 2006? Absolutely!
"I've said before, on several occasions, I got the job too early. But when you're asked to become England manager, you can't turn it down.
"However, there's no doubt I'm a much better manager now than I was eight years ago. Not just because of the England experience but from my time with Manchester United, Middlesbrough and working abroad in Holland and Germany.
"The England job is the best job in the world - if you do it right and get success. But getting that success is probably the hardest job in the world. Its two real extremes when you're in charge of England.
"My future is on Sunday and then an important Championship game against Leicester the following Friday. The Championship is the real focus here and we need to keep going - slowly, slowly!"
Perfect fit
He added: "I couldn't believe my luck when this job came up and I got the call. I felt it was perfect for me from the moment I walked through the door on my first day back.
"I know this club, this town and the supporters. I was very impressed with the chief executive Sam Rush and the board's ambitions. Within a few hours, I knew it just felt right, the perfect fit.
"I brought in Eric Steele and Paul Simpson. Who are both former Derby players and the results have gone well.
"We've gone from 14th to fourth, so we're doing something right. The Chelsea game puts us back in the limelight but I don't just want one big game for the supporters and the players.
"My main focus is to remain consistent in the Championship, so we are in the shake-up at the end of the season. I want to be back in the Premier League.
"The Cup is a nice side issue and this is the draw everyone wanted as we all want to see a team like Chelsea here.
"But I want to build this club to be as successful as it possibly can be.
"We want to be like Swansea, Norwich and Southampton who have gone down but come back playing football the right way.
"My philosophy fits here like a glove."