Sky Bet Championship: Lee Johnson explains Matteo Lanzoni deal to Yeovil
Lee Johnson has revealed how former Oldham defender Matteo Lanzoni ended up with his dad Gary at Yeovil.
Last Updated: 07/01/14 4:56pm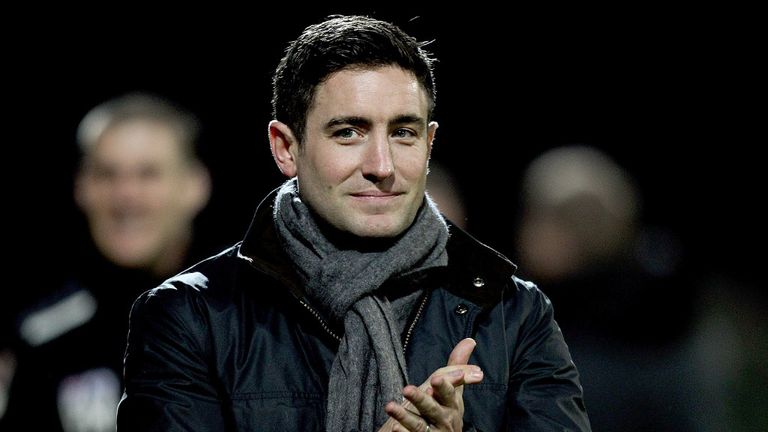 The Italian central defender played 15 times for the Latics after penning a short-term contract in the summer and was offered a new deal to remain at Boundary Park once he became a free agent in January.
However, Lanzoni rejected those terms and looked to be heading to another club in the same division until Glovers boss Gary Johnson declared his interest at the 11th hour.
"It's an interesting little story and the sequence of events was quite important," Johnson junior, manager of Oldham, explained.
"Between me and my dad we've got an unwritten rule that we certainly won't be competing - I need to stay in the inheritance! We would never get in the way of each other for the same player unless we were competing fairly.
"The situation was we offered Lanzoni what I felt was a very good contract for us because I wanted him to stay, he's a great lad and a good player. But, given his injury record, and he's had a lot, I pitched it where I felt comfortable. There was one particular League One club that offered him a very good deal and he was deciding to go there.
"I then declared myself out of the running. But, while he was on his way to that particular League One club, I then decided I'd rather him not stay in League One. I knew my dad was looking for a centre-half and I knew he quite liked him so that was a time where I thought I'd better give him a ring out of courtesy.
"What I didn't want it to look like was that I'd helped my old man out. Actually, I think I've been clever by keeping him out of League One and giving him to a Championship club.
"I think it was best for all parties and it worked out quite well. Certainly Matteo wanted the chance to have a go at the highest level even though he didn't know (about Yeovil's interest) until he was going down to see a club in League One."