Championship: Lavery's 'dream' end to hectic week
Sheffield Wednesday's rising star Caolan Lavery racked up the miles last week but was rewarded with a debut to remember.
Last Updated: 13/01/14 2:43pm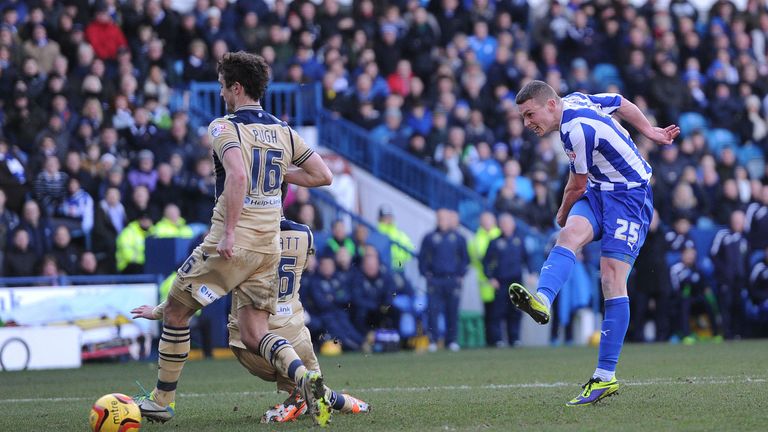 The 21-year-old forward was enjoying a successful loan spell under former Owls legend John Sheridan at Plymouth, scoring three goals in his final four appearances for Argyle before being called back to Hillsborough on Wednesday.
He was then named on the bench for Saturday's clash with Leeds and made a name for himself in an emphatic manner by notching twice to put the finishing touches on a day to remember for the Owls fans.
Wednesday called him back just 12 hours after he had made the long journey back to Devon following some time off, but the Canadian-born striker was delighted to be back in the frame in South Yorkshire.
"We had a few days off there and I was back in Sheffield so I went back with John Sheridan in the car on Tuesday afternoon," he said.
"I went in training normal on Wednesday morning and got a call saying I was needed here. I trained and said goodbye to the lads and then got back on a train so it was hectic.
"It gave me a lot of conference that they were willing to call me back and get involved, even if it was because of injuries.
"I thought I might be involved, but you never really know, so when I was named on the bench I said to myself, 'If I get on I've got to do well', and I think I did that."
The goals were Lavery's first in a Wednesday shirt and he took extra pleasure in his second - a 20-yard curling effort at the death.
"It was a dream," he added. "That's probably the best goal I've scored. The defender made a mistake and I saw my chance and hit it well. It went in so I was delighted."