Championship: Nigel Gibbs says Leeds' win was Brian McDermott's victory
Leeds assistant manager Nigel Gibbs insisted United's 5-1 win against Huddersfield Town was down to Brian McDermott.
Last Updated: 01/02/14 7:27pm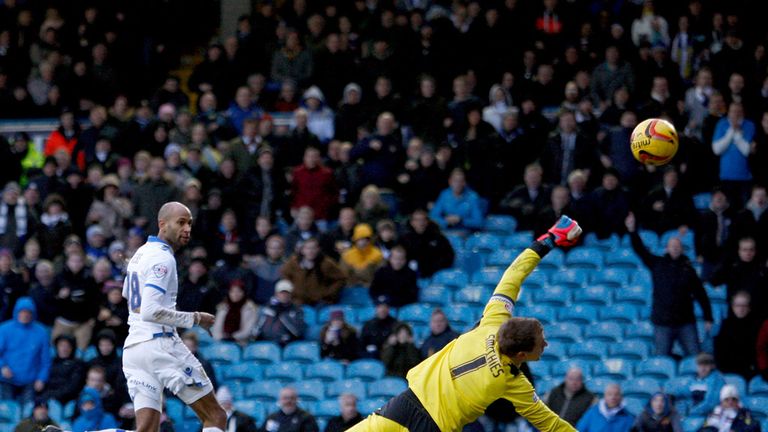 Gibbs, McDermott's long-standing number two, answered the call to lead the team against Huddersfield in his place before facing the media afterwards.
"I was coming to the game anyway because I had not heard from the club," Gibbs said.
"I was asked at 12.15pm. (Managing director) David Haigh asked me to take the team and I told the players.
"The team was prepared by Brian. It's his team, his performance and his victory. It's been unusual to say the least."
Gibbs added that McDermott had called him to wish him luck before the game, but admitted he did not know what his boss would make of the club's apparent olive branch.
At one stage it had looked as if Gianluca Festa and not Gibbs would take the team but he chose to watch from an executive box instead.
Mark Robins conceded his Huddersfield side had paid the price for failing to open a commanding first-half advantage.
Town led United 1-0 on a crazy day at Elland Road thanks to Danny Ward's goal, but missed other chances to go further in front.
Ross McCormack made them pay with the first of his hat-trick just before half-time and after that the floodgates opened, with Jimmy Kebe and Alex Mowatt also scoring.
"It was a game of two halves," he said. "The disappointing thing for us is that we did well and had we got the second goal... We didn't take our chances and when they scored it really sent us reeling.
"The belief went from our back lads and it went throughout the side. It started to have a knock-on effect. We did well in the first half, the conditions were difficult for both teams but we had a foothold. We should have been out of sight."
The game was played amid a state of confusion at Elland Road, with Leeds manager Brian McDermott appearing to be sacked before the game and not attending, before the club said he remained in position.
Asked if the off-the-field antics had given Leeds' players any extra focus, Robins added: "It's difficult to say. Obviously they refocused. From my perspective it didn't mean anything to me but I knew something was going on.
"You don't know (what effect it will have) until you start playing. The second half belonged to Leeds and we have to learn.
"I don't know the ins and outs of it, but Brian is a good man and any football club needs stability."