Sky Bet Championship: Lee Clark says Terry McDermott and Derek Fazackerley have not been fired
Lee Clark is adamant that backroom pair Terry McDermott and Derek Fazackerley have not been sacked by Birmingham
Last Updated: 21/02/14 6:35pm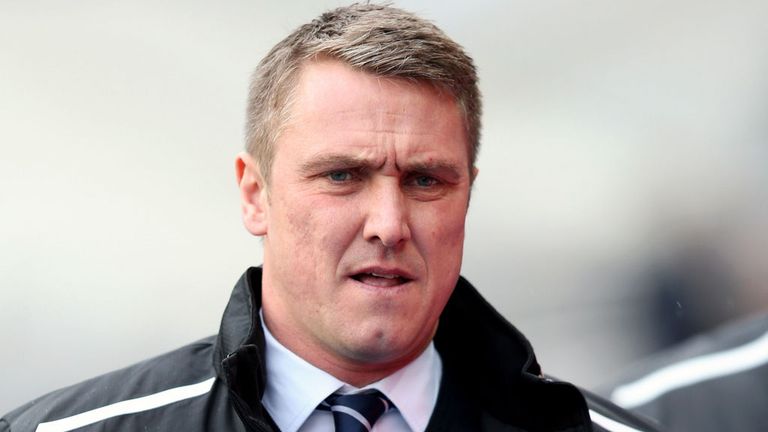 But assistant boss McDermott and first-team coach Fazackerley are understood to have left their posts, although the Championship side have yet to officially confirm the situation.
Steve Watson, Richard Beale and John Vaughan are set to be alongside Clark in the dug-out at Blackpool on Saturday.
However, the manager said on Friday that there had been no firings, and also denied involvement from the board.
"What I can strongly say is that no one has been sacked," said Clark.
"There is no interference from anybody - Hong Kong or England.
"And obviously, as you know with employment issues, it has to go through legal process and that's where we are at the moment.
"We have got new people alongside me at the moment and you've got to understand, in terms of the legal side, I can't really divulge too much more."
Clark expressed regret at the loss of the duo, adding: "Two good men. Two long-term friends, over 20 years. In Terry's case, a family friend.
"Two extremely loyal people to me and dedicated people to me.
"But, as one manager rightly said to me, and this statement is so apt for the football world, 'the only constant in the game is change'."
Birmingham lost 2-1 at home to Huddersfield last Saturday and an unhappy Clark described the display afterwards as "outrageous", adding: "That was probably our worst performance of the season."
Asked on Friday if he perhaps felt the highs and lows of management more than other members of his profession, he added: "Of course. And that's maybe something I need to work on, without a shadow of a doubt.
"But also, on the other hand, the day that dies, the day we have a defeat and I don't have a feeling of hurt and disappointment, that's probably the day I have to walk away from the game."