Sky Bet Championship: Jack Butland believes Leeds must target top-six spot
Jack Butland says Leeds must target a play-off place this season after expressing his joy at his loan move to the club.
Last Updated: 24/02/14 4:55pm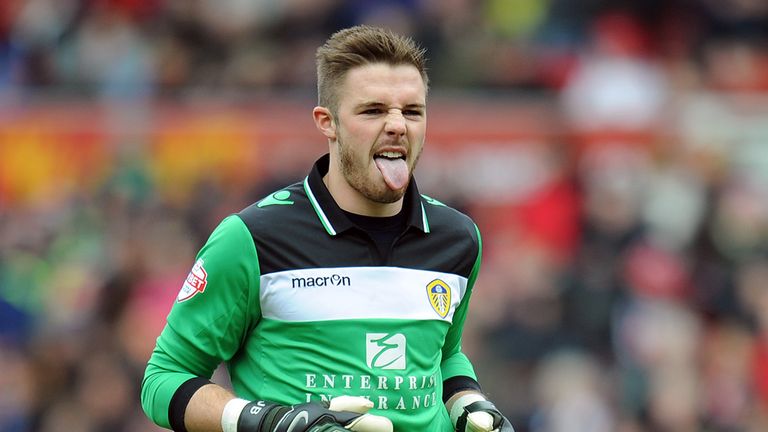 Leeds are seven points behind the play-offs following Saturday's 0-0 draw at Middlesbrough, a point closer to sixth after Reading's defeat at home to Blackburn Rovers, but a scrappy draw failed to seriously enhance their prospects of finishing inside the top six.
But Butland told the Yorkshire Evening Post: "The target's got to be the play-offs. With the expectation and size of the club as it is, it would be wrong not to target that. I think we've got the lads to do it and this is a good start with a solid away point.
"The support that comes with wearing the badge and playing for Leeds is incredible and this is a great opportunity to be part of something special."
Butland impressed on his debut with a couple of fine saves to keep out Middlesbrough and the England cap hopes for more chances with Paddy Kenny still a couple of weeks away from fitness.
"I'd like to think [I'll get more games].
"But Paddy's a great lad and I know him from playing against him. We've had good chats after games and stuff like that. Whoever's playing I'm sure the other will give full support. We'll see when he gets back fit.
"I just really enjoyed being back on the pitch again. It was a great atmosphere and the travelling fans were awesome. Unfortunately we couldn't get all three points but the lads were solid and strong and it was a good away point."
Butland denied Jacob Butterfield with a diving save before half-time and prevented Albert Adomah from snatching a win for Boro with a point-blank parry 12 minutes from time.
"The one with Adomah in the second half was the better save, definitely," Butland said. "I made the one in the first half look a little bit special because the (television) cameras were here! But I'm really pleased. I couldn't have asked for any better way to start."