Sky Bet Championship: Derby County unveil new scouting team
Former Derby defender Mo Camara is one of four appointments in a new-look scouting network at the club.
Last Updated: 27/02/14 3:34pm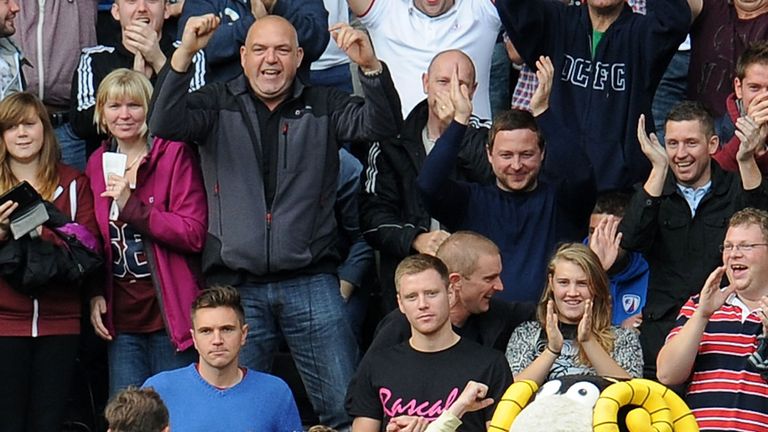 Head of football operations Chris Evans has overseen the restructure and he is confident the recruitment department he now has in place will see the Rams expand their search for new players.
Camara, who made 29 appearances for Derby after signing from Celtic in 2006, joins as head of European scouting.
Derek Bragg is the club's new chief scout, a position the former Hertha Berlin goalkeeper has also held at Cheltenham, Stoke and Sunderland, while Jamie Johnson has arrived as head of UK scouting and Joe McClaren - son of head coach Steve - has the role of head of Under-21 recruitment.
McClaren was also player recruitment and match analyst at Dutch club FC Twente.
Evans told the club's official website: "Mo is no stranger to Derby fans. After his playing career, he spent four years as part of the European recruitment team at Sunderland.
"What we didn't want to be doing was starting from scratch, we wanted to hit the ground running and Mo helps us to do this.
"While we are announcing the department this week, in essence, for the past two months, we have been extensively working quietly under the radar and Mo has already been in France, Spain, Portugal and Holland.
"Derek is very experienced and very well organised. He developed Scouting Network (a worldwide football scouting and consultancy service) and worked with 'scout 7' and 'Why Scout'. He ticked a lot of boxes.
"I spoke to a lot of people and tried to identify the best personnel for Derby County. Apart from the expertise in the field, you have to look at logistics and demographics.
"Jamie lives in Reading. He was chief scout for four or five years at Millwall and the London area is very, very important for us because there are a lot of Premier League clubs and Championship clubs there.
"So, 20 minutes to his east is London, to his west is the South Wales' corridor, to his north he is touching on the Midlands and to his south is the south coast. He came highly recommended by a lot of people.
"Finally, Joe is an expert in his field - he does not come in because of his father's surname.
"I interviewed him three times and I think I mentioned when I joined the club, it is very important that the club started to work analytically.
"Joe had been two and a half years full-time at FC Twente and has done analytical recruitment in Spain, France, Portugal, Holland and this country.
"The recruitment arm has to be senior for now and also under-21 for emerging talent for the medium and longer term."
Evans added: "There has never been a footballer yet found in an office. Now, with myself, we have five senior officers in the department and there will be very few clubs in the UK have that, if any.
"We can now hit any country and over a weekend we could cover half of the division and, the following weekend, we could conclude that division in that particular country. I think that is important.
"We are looking for Derby County to have a big presence and to expand our footprint.
"We are working to a plan that is fully supported by the president and chief executive, and the ownership group and, more importantly, by Steve McClaren.
"Steve mentioned when he first came in that this was an element of a club he knew was so important."