Sky Bet Championship: Burnley boss Sean Dyche says English coaches need time
Burnley boss Sean Dyche says the lack of top-flight bosses from this country is down to the need for instant results.
Last Updated: 01/03/14 2:04pm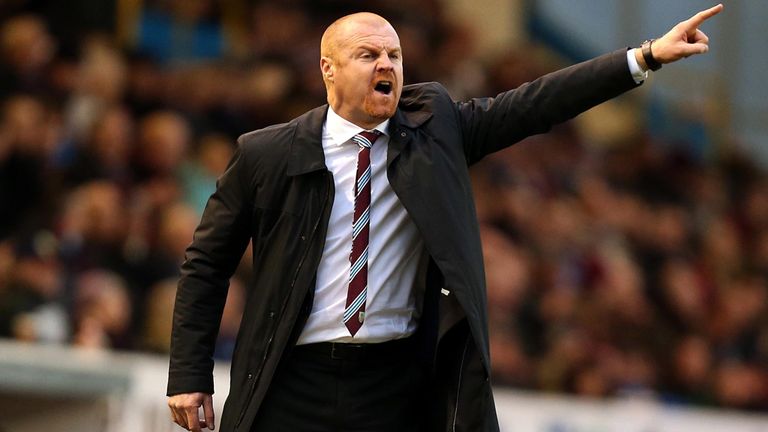 Burnley boss Dyche will pit his wits against Steve McClaren's Derby at Turf Moor on Saturday in a game which could have ramifications in the automatic promotion hunt.
Whatever the result, though, it does appear that the number of Englishmen in charge of Barclays Premier League clubs will increase next season with the top four clubs in the second tier - Leicester, Burnley, Derby and QPR - all managed by English bosses.
Currently, only six of the 20 Premier League clubs employ English managers and Dyche believes the trend for foreign imports is still very much the vogue.
"I'm not sure about the foreign manager versus England manager debate because if you're a good manager, you're a good manager," he said.
"I think there's a thirst from the English culture for foreign managers and foreign players.
"I like to see English managers because it's good for our production line. We talk about developing English players - it's just as important to develop English coaches and managers. The only way to develop them is to get them in good positions to increase their capabilities.
"Generally speaking, it doesn't bother me if there's a manager from wherever. If they're appropriate for that football club, they're appropriate for that football club."
The bottom four clubs in the Premier League - Fulham, Cardiff, Sunderland and West Brom - have each appointed foreign managers this season, although Black Cats boss Gus Poyet had admittedly cut his teeth in the lower leagues.
Dyche is of the belief that younger, lesser experienced managers can be overlooked because of the sport's desire for instant success.
"I don't know whether fans are thirsty for a young manager, everyone wants everything this minute." he added.
"Everything in football is built on this moment, society is built on this minute, we're all as guilty. Development in anything - usually, not always - takes time. Do people want to give people time? Forget about whether they're French, Spanish, German, English. Do they really want time or do they want it now?
"It's hard and fast 'we want it delivered and if you don't deliver get him out and get another one in'. I think there's more of that in our culture than ever before. I think it's football mirroring society."