Sky Bet Championship: Karl Oyston concedes Blackpool have acted poorly in transfer window
Last Updated: 28/03/14 6:24pm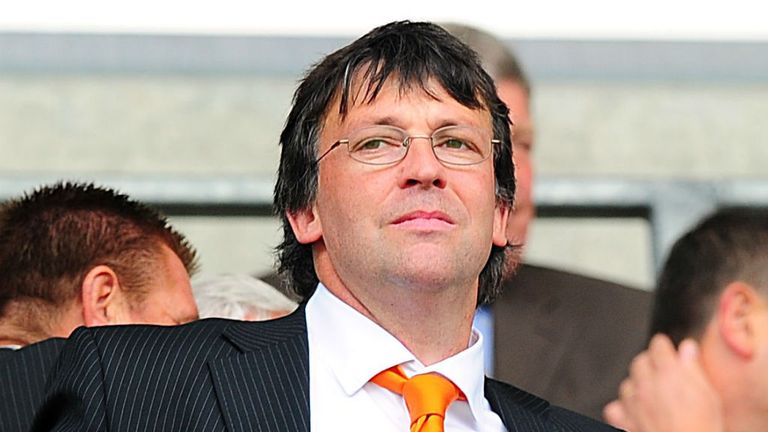 Blackpool chairman Karl Oyston believes that the club must change its tact in the summer transfer window in order to avoid another "season of turmoil".
With the majority of the squad's contracts set to expire by the end of this season and the club's Championship survival far from secured - sitting just nine points above the relegation zone - Oyston concedes that much has to change at Bloomfield Road in the coming months.
Sixteen players were brought into the club in the summer, with a further 23 shipped out either on loan or permanently, and a similar overhaul is expected this time around.
"Every summer is big for a club, for different reasons," Oyston told the Blackpool Gazette. "This summer is big for us as we have some big decisions to make.
"This goes without saying, but recruitment has been our failing and needs to improve.
"We probably need to go for a different profile of players.
"We should be aiming for ones who are young and hungry, or at least hungry whatever their age.
"You have to have people who want to play, want to perform and want to improve.
"We have to get the balance between the steel and the creative flair we have probably lacked."
The Seasiders have endured an already tumultuous season so far, with their early form pointing towards an unlikely promotion push under then-manager Paul Ince.
However, Ince was sacked in January amidst a woeful run of form that saw the side go 17 games without a league win, accruing 10 points over the last 21 games having reached 31 over the opening 17 games.
Ince's replacement came in the form of club midfielder Barry Ferguson in his first management post, and the 36-year-old caretaker manager represents the uncertainty surrounding the club heading into the summer.
The club, and Oyston himself at times, have come in for particular criticism, something which Oyston understands completely.
He said: "I'm very sad to say it's been another season of turmoil. We thought last year was bad enough, but managed to at least match last season.
"It's not good, as a club we now have to make sure we don't put our club, and our supporters, through this again.
"We had the best league start we've ever had in the club's history to what I'm sure is one of the worst.
"This isn't what we are used to, it's not what we want and it's not what we are going to tolerate."
Blackpool made their way through three managers last season, and the managerial instability has continued this campaign with Ferguson thrust into the hot-seat.
Oyston was quick to praise Ferguson for the job he has done so far, but admitted that his own shortcomings must be rectified in order for the club to move forward as a whole.
The 46-year-old said: "I'm not laying the blame anywhere, I'm not going to point any fingers.
"But as an organisation we need to perform better.
"That direction can only come from myself and we need to sit down and make sure we don't go through this again.
"I can't remember a time in my whole 15 years when things have been as hopeless as they have appeared at times this season.
"There is much more hope now since Barry came in, there's certainly a different feel about the place."