Co-owner Tony Fernandes vows to fight any FFP fine imposed on promoted QPR
QPR co-owner Tony Fernandes will fight any FFP fine and has vowed to reinvest much of his side's promotion windfall.
Last Updated: 25/05/14 2:08pm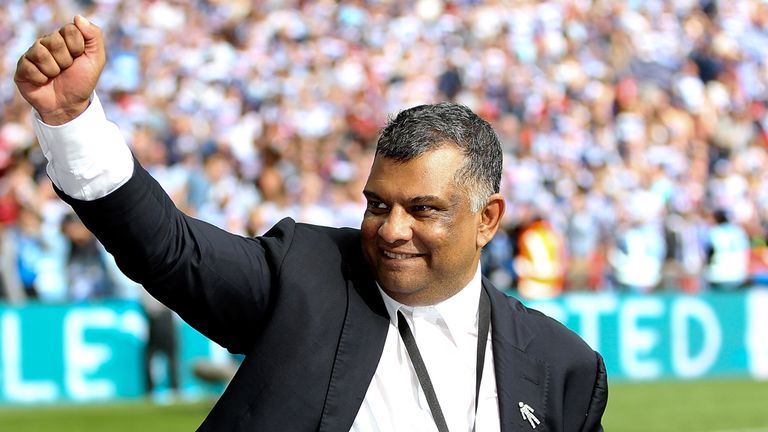 Rangers returned to the Premier League at the first attempt with a 1-0 win over Derby County at Wembley in the Championship play-off final on Saturday, courtesy of Bobby Zamora's 90th-minute goal.
Promotion is reported to be worth in the region of £120m to QPR, but the Londoners are now facing a fine of up to £50m for failing to comply with financial guidelines having recorded a loss of £65.4m for the period ending May 2013.
But Fernandes said: "Will we fight the fine? What do you think? After all we've been through, it's my middle name - 'Fight It' Fernandes.
"My view has been consistent, that it is very unfair for a club that has been relegated as the wage difference between the Premier League and Championship is impossible. There should be a time period for clubs to rectify their salaries.
"If we were in the Championship in two years with that wage bill it wouldn't be right. I'm in favour of FFP but it is unfair for a club coming down."
QPR are to be punished for the current campaign - during which they have carried a debt of £177m and a wage bill larger than that of Spanish champions and European Cup finalists Atletico Madrid.
"Harry Redknapp and me are very close and the manager is already talking about new players and next season," added Fernandes.
"He never stops. After the whistle he was mentioning a couple of players. I think he is relishing being back in the Premier League.
"There is a massive gulf between us and those at the top of the Premier League but we have a great manager who has been up there. We are smarter owners and we will take our time over the summer.
"Nobody is perfect. We will still make mistakes but we will be wiser and smarter."