FA chairman Greg Dyke feels his plan for B teams is still viable
Football Association Greg Dyke remains confident 'a version' of his controversial B teams plan remains viable.
Last Updated: 08/06/14 5:15pm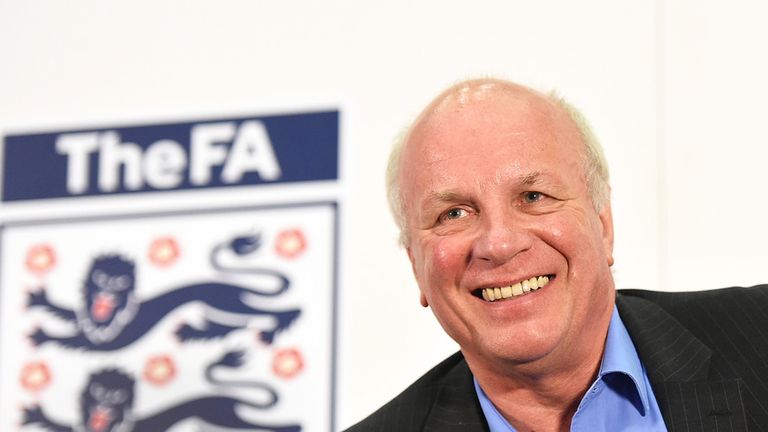 In his chairman's report, Dyke outlined plans for a new tier between Sky Bet League Two and the Conference which would include a number of Premier League clubs' reserve teams.
The proposal is aimed at increasing the number of top-level players available to the England national team but has drawn widespread criticism from League chairmen and supporters, with more than 33,000 signing a petition against it.
Football League chief executive Shaun Harvey recently suggested that B teams could compete in the Johnstone's Paint Trophy, and a discussion along those lines is one Dyke has welcomed.
"A version of it is viable," said Dyke, speaking to Sky Sports News at the League's annual general meeting in Portugal. "There will be discussions about B teams playing in the Johnstone's Paint Trophy and that's a start.
"That's a proposal from the Football League that will be discussed tomorrow and I expect that will be quite heated too.
"A few of the clubs will say that's interesting but we'll see. You go around the clubs and the Premier League clubs tell you there is a problem about getting kids proper competition against adults.
"That would be one way of starting it so that would be better than nothing.
"There will be discussions about a more souped-up European Under-21 league and that's what we want. There is a problem for players coming through at 18 or 19 and that is that there is nowhere for them to play.
"They're not yet ready to play in the Premier League and they need somewhere competitive to play."
Dyke was also keen to stress that two further parts to his report will be made public in due course, and that they address the issues of coaching and facilities that many feel are more important than creating a new league for B teams.
"There are two more parts to it and one is about coaching and how we get more people involved with coaching and making careers out of it," he said.
"We're doing more work with grassroots facilities and how we can get more all-weather pitches, so those two are still to come.
"It wasn't a report that says 'this is the conclusion', these are ideas to be discussed and that's what I've come out here for, to have that discussion."