Transfer news: Eddie Howe looking to bring quality additions into Bournemouth
Last Updated: 17/06/14 3:33pm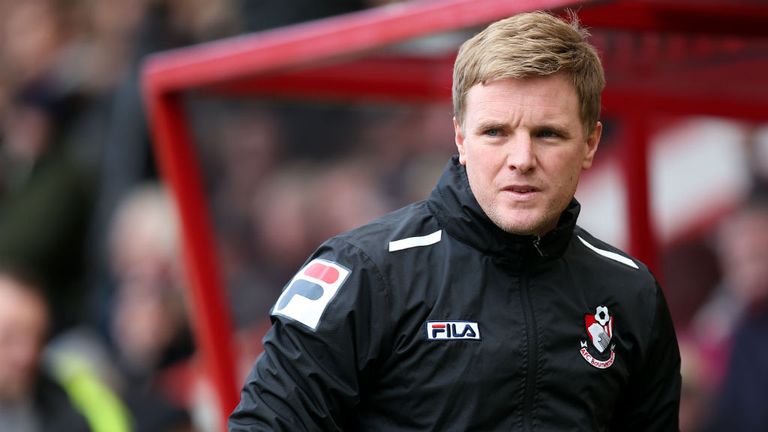 Eddie Howe says he is one of those managers looking for quality rather than quantity in the summer transfer market.
The Bournemouth boss has funds with which to strengthen, with the sale of striker Lewis Grabban to Norwich City helping to bolster his kitty.
Interest in Coventry City forward Callum Wilson has been mooted, with two offers said to have been knocked back.
Howe is reluctant to reveal the identity of those he is targeting and insists he is not one to make wholesale changes, with only four deals completed in 2013.
He is, however, prepared to admit that a wish list has been drawn up and that efforts are being made to raise the standard of a squad that fell agonisingly short in a bid to reach the Sky Bet Championship play-offs last season.
Our existing squad is very strong and, to try to improve it, we need to make sure we get very good players to complement what we already have and that is a difficult task.
Eddie Howe
Howe told the Bournemouth Echo: "We are actively looking for players and have made bids.
"We have been working hard over the summer to try to secure our top targets.
"I have always said that we wouldn't be looking to bring in huge numbers, but we are looking for quality.
"Dan Gosling highlights the type of player we are looking for and, hopefully, we can add others to the squad.
"It is difficult with everyone competing for such a small pool of players but we are confident we will have our squad in place, and the one we want to move forward with, before the season starts.
"It's difficult to predict a time frame. I have always been a firm believer that you get the right players and you don't just get numbers. A lot of Championship clubs have added numbers to their squads and that is the way they work.
"We like to identify players we want and will try to pursue them until such time as we sign them or they go elsewhere.
"Our existing squad is very strong and, to try to improve it, we need to make sure we get very good players to complement what we already have and that is a difficult task."