Sky Bet Championship: Leeds boss David Hockaday defends owner Massimo Cellino
Last Updated: 10/08/14 12:37pm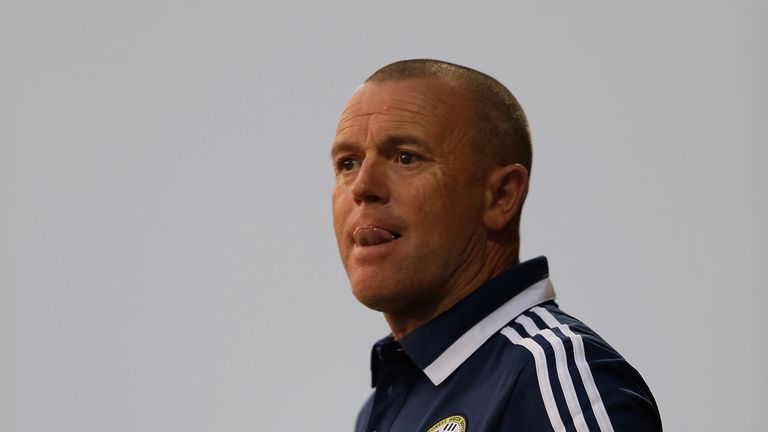 Leeds United head coach David Hockaday has staunchly defended the club's owner Massimo Cellino and his approach to leadership.
Cellino, 58, is considered a divisive figure whose extravagant personality and controversial methods have been widely reported following his takeover of the club in April.
The superstitious Italian is understood to consider the colour purple and number 17 as unlucky, reportedly banning the team from staying at a Leeds city-centre hotel because of its decor.   
But ahead of their Sky Bet Championship opener against Millwall on Saturday, Hockaday, who Cellino installed as Brian McDermott's successor this summer, insists he is a delight to work with.
"It's been great. I know there will be a bit of conjecture but we get on fine," the 56-year-old said.
"I think the media have had a bit of fun at Leeds' expense over the last few weeks. There's a lot of stuff going out there, and I appreciate you media guys have got stories to write and papers to sell, but don't read into it too much.
"He's great to work with because he's so passionate about the football club and, regarding his superstitions, I just don't wear number 17 on my back or purple.
Season Ticket Giveaway
As proud sponsor of the Sky Bet Football League, Sky Bet are giving you the chance to win a pair of season tickets for your favourite FL72 club.
For your chance to win click here
"Now we're at the business end of the summer so let's concentrate on Millwall on Saturday."
Cellino has insisted he and director of football Nicola Salerno, not head coach Hockaday, will identify and bring in all new signings and the former Forest Green Rovers manager insists he has no problem with this approach.
"If there's somebody I don't particularly like then I'll voice my concerns," he said.
"Then they'll go and get the best one they can for Leeds United. That makes sense to me."
The new Sky Bet Championship season gets underway live on Sky Sports 1HD on Friday night with Blackburn against Cardiff from 7.45pm.