New era
Lloyd Doyley discusses a summer of change at Watford and all things Championship.
Last Updated: 15/11/12 11:49am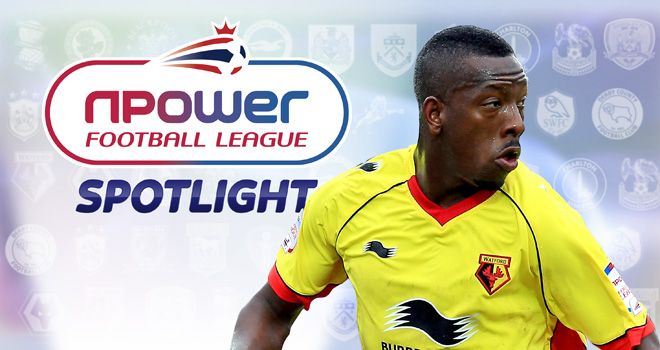 The 2012/13 campaign is now well under way, with divisions beginning to take shape.
Here at Sky Sports we will look to take you to the very heart of the Football League over the coming months, with our Spotlight features intended to give you a greater insight into the clubs and players that keep us on the edge of our seats.
We hope to bring you the views and thoughts of a representative from each of the 72 teams over the course of the season, with those involved asked to give their take on the division they compete in, the club that pays their wages and those we should all be keeping an eye on.
Watford's Lloyd Doyley is next in the hot-seat, with the long-serving defender taking time out to discuss a new era for the Hornets and all things Championship with Chris Burton.
You're obviously hoping that Watford are going to be challenging this season, but who else do you see going well in the Championship?
I'm sure Blackburn will be up there. Cardiff are doing well at the moment. I'm sure Leeds will be up there with (Neil) Warnock. Brighton could be. There are a few that could be because there are a lot of good teams in the Championship this year. I think it could be out of about 10 teams.
Who has impressed you so far this season, both at Watford and elsewhere?
At Watford we have had a few good players that have come in. Almen Abdi has shone for us and (Matej) Vydra has shone a lot for us as well, he's got a few goals now. Elsewhere in the Championship, players like (Jermaine) Beckford will shine. (Kevin) Davies will shine this year as well.
Are there any youngsters at Watford that we should be keeping an eye on?
Yeah, there a few that have just been given long-term contracts. There is one called Connor (Smith), he's just got a four-year contract and has been involved with the first-team quite a lot this season. Sean Murray has played seven or eight games and will be involved for the rest of the season. They are players that are looking to play every week and are up and coming.
The Championship is such a competitive division - more so than ever this year - what does it take to be successful?
I think you need to be able to keep a lot of clean sheets and be able to score one or two goals. You need to be able to grind out results. A lot of games will be very difficult and you'll be under a lot of pressure so you need to be able to grind out results. I think you need that bit of consistency, you need to be winning more games than not. You need to be winning and not drawing.
What's your verdict on how things have started for Watford - is it fair to say it's been a bit of a mixed bag?
We have played some good games. There have been a few games where we haven't got the result that we actually deserve. We have been a bit inconsistent at the moment, but we are a new team and that's what we are working on every day.
It was always going to take time for things to click wasn't it, given that so much went on over the summer?
There's a new manager, new owners, lots of new players and things do take time. But we have got a good bunch of lads here, a good squad, and we are just working on improving in every game and every day in training.
It's an exciting time for the club, though, and the future appears to be bright doesn't it?
It does. That is what Watford have been missing, they've been missing an owner that knows about football and are stable. The owners, the Pozzo family, have got two other football clubs so they know a lot about football. Watford are in safe hands.
You've spent your entire career with the club, looking back it has been a real rollercoaster ride hasn't it?
I have been a professional for 11 years and have been at the club since I was 11. I'm 29 now, so I have seen a lot of players come in and out, but that's football for you. When a new manager comes in, new players come in and new staff comes in. Things go up and down.
You're now a man with two career goals to your name after netting against Bolton, I take it you are hoping you won't have to wait another three years for the next one?
I have got two now and I would say the second one was definitely better than the first! It was just a bit disappointing that we didn't actually win that game. I'm looking to get more. I have always been positive, so hopefully I'll get another one this season.
What's it been like working under an iconic figure in Gianfranco Zola?
As I was growing up I was looking at him and thinking that he was such an awesome player. You can still see it in training every now and again when he joins in. He's a nice bloke, he's a nice gaffer to be managed by. He has brought in some good staff that have got a lot of experience, so it's a good combination.
Have you been set any targets or is it a case of waiting until February/March time and seeing where you are then?
I just think we need to take it game by game. I know it's the usual cliché, but we have to take every game as it comes because every team in this league are difficult and give you a different type of game. What we are trying to do is build our game by passing out from the back and passing the ball a lot more than we have been doing in previous years.