Mick to the rescue?
Mick McCarthy is back in management after being appointed as the new Ipswich Town boss. With the club bottom of the Championship, McCarthy faces a tough task but Adam Bate reckons he could be the right man for the job.
By Adam Bate - Follow me @GhostGoal
Last Updated: 01/11/12 3:03pm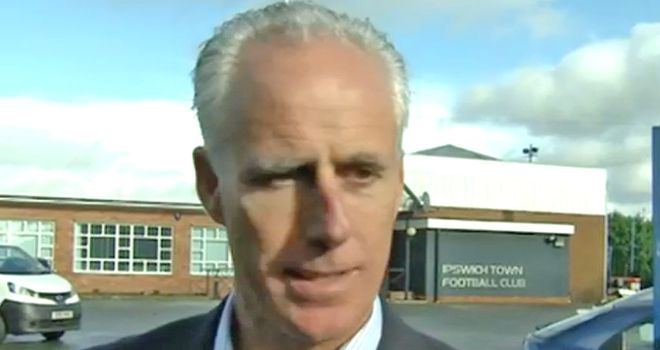 It's been a busy week for managerial appointments and it's understandable that new Blackburn boss Henning Berg is attracting the attention for his claim to TV 2 Sporten in May that: "No real managers with credibility would accept a job like that." But the words of new Ipswich manager Mick McCarthy in the summer also make interesting reading.
When asked to explain his decision not to pursue the July vacancy at Nottingham Forest, McCarthy said: "The primary reason is that I want to get a job in the Premier League." A little over three months later and the former Sunderland and Wolves boss has signed a contract until 2015 with the Championship's bottom club.
For all McCarthy's posturing, it is unlikely to come as a surprise to anyone - least of all him - that the 53-year-old finds himself back in the division where he has done his best work. McCarthy has a miserable record of just 109 points in 138 Premier League matches and the 'perspiration over inspiration' ethic rarely seemed sufficient at that level. In the Championship, he is a different animal.
In seven completed seasons in the second tier of English football, McCarthy has won the title twice, reached the playoffs three times and finished in the top half of the table on the other two occasions. He will also point to the fact that he was sacked at both Sunderland and Wolves with the clubs in the Premier League, while his Millwall career came to an end when he took the Republic of Ireland job.
Prospects
Ipswich's prospects may not appear too healthy right now, with the club currently on a run of 12 games without a win. But McCarthy's strengths appear well suited to the demands of the job at Portman Road. Town's key weaknesses are solvable with the right man at the helm.
Asked about former boss Paul Jewell last month, Tractor Boys skipper Carlos Edwards said: "He's a genuine man. He's too nice for his own good sometimes. I think we as players take advantage of the situation and not perform in the way that we should."
Midfielder Richie Wellens agreed. "A new manager needs to come in and put a rocket under their backsides because there are not enough people who show they care about losing a game of football or even their own careers," he revealed last week, quoted in the Daily Express. "We need people to show passion, to show they care."
An injection of passion is precisely what the Ipswich squad can expect. This is a man whose mantra of 'putting in a shift' has shaped his managerial career. Anything less cannot be tolerated and with a quick glance at the Ipswich roster it is easy to speculate as to which players can expect short shrift from the new boss.
McCarthy, who has taken familiar assistant Terry Connor with him, will have allies in the dressing room. Daryl Murphy, currently on loan from Celtic, was signed from Waterford by the Irishman when he was in charge at Sunderland. Edwards, another former Black Cat, also played under McCarthy at Wolves.
And the new man will need people he can trust as he sifts through the mess at Portman Road. With eight players at the club on loan deals - six of whom played in the 3-0 home defeat to Sheffield Wednesday last weekend - and a further player in Nigel Reo-Coker on a short-term contract, uncertainty permeates the dressing room walls in Suffolk.
Wellens, himself on loan from Leicester, has spoken of the tension that threatens to divide the team. "One of the coaches said that the old manager got stick for bringing in loan players, but it is the loan players who are showing they care and that is a sad indication of what is wrong," explained the 32-year-old.
Familiar situation
But McCarthy has shown before, he can deal with situations like this. The last time he took a new appointment was back in 2006 when he walked into a Molineux dressing room that had lost 11 full internationals in the summer, including the likes of Paul Ince, Joleon Lescott, Darren Anderton and Kenny Miller.
McCarthy bolstered a skeleton squad by bringing in Karl Henry, Michael Kightly, Stephen Ward and Jay Bothroyd for a combined fee of £300,000 and soon found a clarity of purpose with a young and hungry team - battling through the pessimism to take the club to the playoffs.
While that task is likely to be well beyond Ipswich this season, this looks to be a shrewd move by chairman Marcus Evans. Some may doubt the wisdom of the same old names being given the opportunities but Ipswich are not in a position that lends itself to making an experimental appointment. Four points adrift at the foot of the table, there is a crisis to avert.
"While the long-term ambition is to take the club back into the Premier League, it's clear that the first priority is to get some confidence back into the team and start climbing the table," said McCarthy in his opening press statement. History suggests that Ipswich have just the man for that job.