Mowbray Exclusive
Graeme Bailey spoke exclusively with Championship Manager of the Month, Middlesbrough boss Tony Mowbray
Last Updated: 16/11/12 5:54pm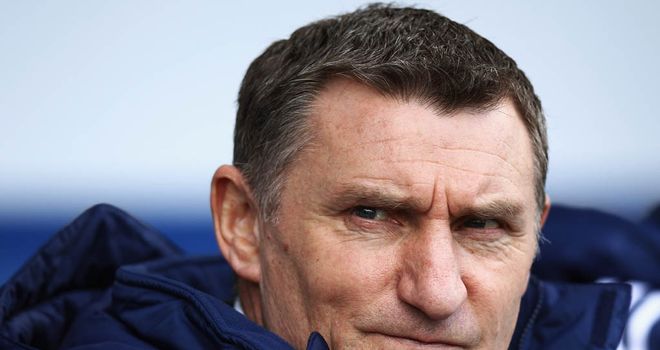 Graeme Bailey spoke exclusively with Championship Manager of the Month, Middlesbrough boss Tony Mowbray, who has guided the club to their best start since he was captain of his hometown club.
Boro's best start in more than 25 years has coincided with Mowbray's tenure and return to the club so close to his heart.
Taking charge in October 2010, with the club in deep relegation trouble - Mowbray has transformed the fortunes of Boro who are now firmly placed as one of the favourites for promotion.
They went top of the Championship last weekend with a Friday night triumph over Sheffield Wednesday and they were watched by 28,000 fans - the biggest crowd since Mowbray's return and in no small way down to chairman Steve Gibson, who slashed prices.
"In the Riverside with just 15,000 that can be hard to get the atmosphere going and so it was a great initiative the other night, and the fans have shown their support by their feet and the chairman was taken aback by the support - the expectation was about 20,000 so to get 28,000 is a great credit to the people of Teesside and hopefully the people can keep being rewarded by the team and hopefully the fans can have some big games at the right end of the table and get in at the right price and see it as well spent," said Mowbray, who is never slow to insist on the community spirit of the club, which is owned, managed and sponsored by a Teessider.
"I think our club has got to be a community club, particularly where we find ourselves - in the Championship - and we can't disguise we have had 15,000 crowds in a 35,000 stadium and it is not conducive to an enjoyable day out, you get a matchday feel much better like on Friday night - if you were a Boro fan and there, you would have enjoyed it so much more - you could bounce off people and start to sing."
Cardiff challenge
With Mowbray celebrating the Championship Manager of the Month award for October, Middlesbrough find themselves once again in contention to return to the top of the table - but to do so they will have to end Cardiff's 100 per cent home record, although the North East club are well placed having done that on their previous to visits to the Welsh capital.
"Cardiff at home are on an amazing run and have won every game and yet before going to Nottingham Forest and drawing, we had won five or six on the bounce, so it holds no fears for us going on the road and trying to be positive and scoring goals," he continued in a confident manner.
"I think it will be a good game - the last two seasons we have won both matches so we will go there and be positive. I think they will know it is going to be a tough game of course as we are only one point ahead, they know how well they have done so to see a team doing just as well they will know it is tough, but we will go there and be positive and play enough people on the pitch to score goals and hopefully create chances, but also be mindful that they create and score goals, but this division is full of so many tight games and we just hope we go there and get a break and come away with three points."
Mowbray is becoming very adept at rotating his squad, and trying to second guess his team will be almost impossible for Malky Mackay.
"Some managers work off the opposition formation and formulas, and some work on their own and concentrate on themselves, for me we will pick a team to do both really - see their strengths and weaknesses, and play against their strengths and try and expose their weaknesses and that is generally how I pick my teams and my job is to highlight where we should be attacking and see if it bears fruit," Mowbray explained.
With January on the horizon, Mowbray admits that after seeing Reading promoted last year on the back of Jason Roberts' signing, he may look at possible options.
He said: "I think Jason Roberts was the stand-out signing, after the turn of the year Reading had a run of amazing results that nobody could see coming and he was a big part of that with his character and goals, so any signing can make an impact on a team and if the right opportunity comes then we will try but it all has to fit in budgets, so if that means people leaving if they have not been playing then we will have to look at all aspects."
The New Year will see Boro boosted by the return of some key players, including the likes of Rhys Williams, Julio Arca and Muzzy Carayol.
Mowbray added: "Rhys Williams is massive player for us, whichever position you want to put him, Julio he brings experience and quality, and Muzzy Carayol has been a huge loss. He started the season so well and we are looking forward to getting him back."
Baggies respect
Mowbray is turning Boro around slowly and surely, but Middlesbrough only need to glance up to the Premier League at West Bromwich Albion to realise he knows just what he is doing - despite having different budgets, different personnel - his philosophy has remained unchecked, and to this day the foundation stones he set in place at The Hawthorns are undoubtedly what the club is built on today. You only need look at the core of the team - Youssouf Mulumba, Jonas Olsson, Graham Dorrans, Chris Brunt and James Morrison - all Mowbray signings.
Mowbray is hesitant to claim too much credit, but there remains a huge sense of pride when he talks about his former club.
"Since I left they have had some pretty good managers, Robbie [Di Matteo, Chelsea boss] is managing the European champions, Roy [Hodgson] is managing England, so I am pretty sure they have made an impact on the club, but I like that the five or six players play very regularly are players that we brought in, and they needed that year of experience, like Mulumbu coming from PSG and Olsson from Nijmegen - sometimes they have to get acclimatised to the intensity of the league and they have done that now.
"West Brom will always hold a special place for me as I got that chance to manage in the Premier League. They have just pushed on with some pretty good managers after me, there is a sense of pride along with the staff at the time as it is not a one man job to recruit, it is a very well-run football club and people above the management staff work extremely hard to make sure the club is run properly and all credit to everyone at West Brom for the season they are having."
Mowbray's philosophy has always been to try and discover talent and harness the potential, or as he puts it 'polish a diamond'.
Diamonds
"Recruitment, the stock you work with in footballers, you have to recruit properly and invest," he stresses."As I have said, you walk along the beach amongst the pebbles and you find a diamond and you polish it up and find a footballer, that is what we all want to do and that we all are striving for, sometimes in the world we live in it is easy to take a player thrown at you by an agent and think he will do, but you have not done your homework, you probably don't know enough about it him, you haven't studied him, you haven't seen him live, and you don't know his personality and the bottom line is that you have to do the job properly and don't cut corners and if you do, invariably you will get it right more often than not."
Of his current side, Mowbray believes there are some potential gems amongst his new look squad.
"I think there is a few, George Friend, what a talent he has proved to be, and one who has seen us this year will know that, but for 100 grand he is not bad and Emmanuel Ledesma showed what a talent he is on TV last week. Carayol form Britsol Rovers started the season so well and we are excited about him coming back and Grant Leadbitter - proven player but on a free and he has proven to be a cornerstone, but we will just keep going and have got some fabulous individuals people who just want to come into work and improve and it is going okay at the moment."
And despite his history of find diamonds amongst the pebbles, Mowbray explains that the policy then puts you in the position of trust to spend larger and larger amounts.
"It is balance, what I would say is that the people with the purse strings have to trust the people spending the money so if you prove you can do it, they end up trusting you - like taking the Mulumbus and Dorrans for 100k, so when you want to spend the millions on Morrison and the Brunts, they trust you as well.
"The secret is to try and get it right and then the people with the purse strings will give you that as they trust you to get it right more often than not."
The interview was courtesy of the Teesside Philanthropic Foundation - who announced that Middlesbrough FC as patrons of the charity which is dedicated to helping local people in need of financial support.