Sheffield Wednesday manager Dave Jones facing crucial Christmas period
Sheff Wed boss Dave Jones is facing crucial Christmas period as he fights to save his job.
Last Updated: 20/12/12 9:32am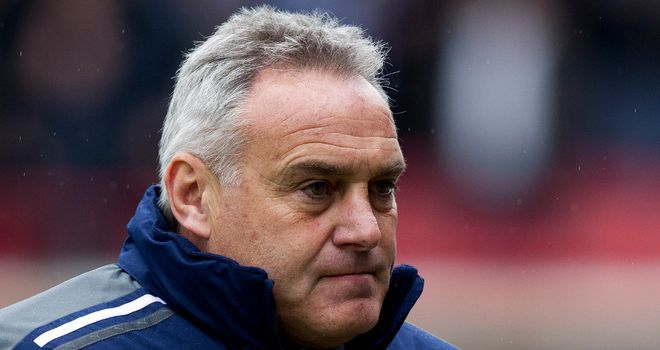 The first weeks can be quite enjoyable, yet as the months pass by, it becomes apparent that it doesn't work quite as well as hoped and you would be better off without it.
Welcome to the Sheffield Wednesday manager's job: football's ultimate poisoned chalice.
Dave Jones is its latest recipient and like many a decent boss before him, he finds himself clinging desperately to the role as we enter the perennially crucial Christmas period.
Danny Wilson, Paul Jewell, Chris Turner, Paul Sturrock, Brian Laws, Alan Irvine and Gary Megson will no doubt be looking on with a sigh of sympathy for Jones as they see their former club labouring second bottom of the Championship and the P45s potentially being readied.
All of them walked into Hillsborough over the last 15 years with the same level of hope and expectation; all of them were later kicked back out after failing to tame what Sturrock called "a terrible beast" at the club.
Terrible beast
The beast has had many heads since the beginning of Wednesday's demise in the late-1990s: financial problems, a lack of investment into the playing staff, a losing culture, boardroom instability.
Even when the Owls have managed to cut one off - such as when chairman Milan Mandaric took over and cleared the club's debts - another has seemed to grow back.
And with a third relegation to League One within a decade now a distinct possibility, there appears no sign of the monster being tamed once and for all any time soon.
Things had actually started so well for Jones after his appointment in March, with an unbeaten run propelling the Owls to promotion back to the Championship at the expense of city rivals Sheffield United last May.
A steady start to the new season also followed as the former Cardiff City boss went undefeated for the first 18 matches of his tenure.
But once that bubble was eventually burst, in a 2-1 defeat to Crystal Palace in September, the pendulum swung remorselessly and seemingly irreversibly in the opposite direction.
Wednesday have gone on to lose no fewer than 14 of their last 19 matches, winning just three, and are now part of a group of four teams who appear destined to battle it out between themselves for a sole survival spot.
The feel-good factor that last season's promotion generated has dissipated and, while attendances at Hillsborough generally remain above the 20,000 mark, home fans now make their pilgrimage more in futile hope than expectation.
Ominous forecast
So what of Jones? Will he see out a full year as manager or join the list of the Wednesday damned?
Immediate history offers an ominous forecast. Megson was given the sack by Mandaric with the team third in the league and on the back of a crucial Steel City derby win over Sheffield United, so there is little reason to think mercy will be bestowed upon a manager on such an awful run as Jones.
But then if Mandaric was going to wield the axe, it seems logical that he would have done so by now. And with a vital victory over relegation rivals Barnsley secured in their last outing, Jones has bought himself time - the Christmas period at least.
Wednesday face Charlton Athletic, Bolton Wanderers, Huddersfield Town and Burnley in what promises to be a hectic and tension-filled 11-day festive programme.
Jones just has to hope that the gift he received last March chooses this season of goodwill to finally start giving.