All change at Wolves
With Dean Saunders replacing Stale Solbakken as Wolves manager, it's been another week of upheaval at the West Midlands club. Adam Bate looks back on 12 months of mixed messages from Molineux.
By Adam Bate - Follow @GhostGoal
Last Updated: 07/01/13 3:41pm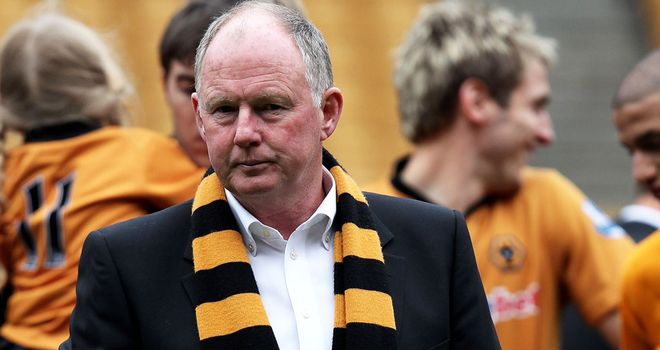 "He had one bad season but, if you look where he had a bad season, it's a very dysfunctional club. We're the complete opposite of clubs like Cologne," said Wolves chairman Steve Morgan after appointing Stale Solbakken in May. "I'm not picking on them but when you look at 26 managers in 25 years, I think Wolves, since the history of the club, haven't had that many managers. It's not my style, either, to hire and fire. We like to work with people and try and pull together as a team."
Say it often enough and people might even believe it. But despite the talk of not being a hiring and firing club, the facts speak for themselves. Wolves are now on their fourth manager inside 12 months.
The decision that sparked this period of relegation and instability was the sacking of Mick McCarthy following a 5-1 home defeat to rivals West Brom in February. The timing of the axe was widely criticised, coming as it did just days after the January transfer window had passed. Perhaps the only thing more disastrous than the timing was the identity of his replacement.
"It is not a job for a novice," insisted chief executive Jez Moxey in the immediate aftermath of McCarthy's exit. After a two-week delay, Wolves proceeded to appoint Terry Connor - the erstwhile assistant manager and the one man the club knew would not be bringing any new ideas. Relegation followed and Connor is still waiting for his first victory as a football manager.
Lecture
Far from being embarrassed, Wolves had a lecture for other clubs instead. "I don't care how the national media think we should run our club," Moxey told supporters. "We pride ourselves on being different from many clubs."
He added: "The process we've followed, despite what people may think, has been a really diligent, professional approach. Part of the problem with football is there's not enough due diligence done in appointing managers, which is why we have the merry-go-round.
"If Terry Connor has survived four managers here, it's because he's damned good. I'm very pleased we have been able to maintain the continuity we have protected for such a long time. There's a whole raft of brilliant people below the manager."
By the end of the year, many of those 'brilliant people' had gone. Connor was dismissed as assistant manager in October and subsequently pitched up at Ipswich, along with several of the club's scouting network, to work under McCarthy again. So much for legacy - Wolves had decided to go in a completely different direction.
Solbakken arrived with an impressive reputation in Scandinavia following his work in Norway and Denmark but question marks over his CV after relegation from the Bundesliga with Cologne. Concerns over the limitations of McCarthy's playing style had sparked a desire to adopt what was vaguely referred to as a 'continental approach'. Morgan spoke of a director of football that never arrived.
And the players seemed intrigued. "When you bring a new man in, I think you want him to have new ideas," captain Karl Henry told the Birmingham Mail. "The manager has certainly got that." But progress was slow and, after a bright start that saw Wolves climb to third in the Championship table after 10 games, things soon fell apart.
Embarrassing
Pressing was abandoned in favour of a slow tempo approach. Significantly, the style was changed but the players were not. Injuries robbed Solbakken of many of his new signings and so the starting line-up that were embarrassingly beaten at non-league Luton on Saturday included 10 of McCarthy's squad in a 4-4-2 formation. It wasn't so much that he had tried to overhaul things but rather he hadn't changed the personnel enough. And so he was left accused of not playing to the team's strengths.
The appointment of Dean Saunders leaves the club open to further accusations that there is no coherent strategy at Molineux. In much the same way that the England national team lurch between foreigners and Englishman, technicians and motivators, Wolves have abandoned all things Solbakken in favour of Saunders' simpler methods. "Dean is a very different character," admits Morgan.
Saunders may prove to be a success but it is hard to shake the feeling that this is little more than a punt. After all, the Welshman's only experience of managing in the Championship resulted in relegation with Doncaster last season. He comes with a reputation for pragmatism. "His football philosophy is straightforward - he asks the players to work hard," added Morgan. One senses McCarthy would approve.
"We are a stable club and we think we are very good people to work with," insists Moxey. The club's board take great pleasure in seeing themselves as people who do things their own way. But with rivals West Brom now 31 places above them, they don't have to look too far away to wonder whether maybe they should be the ones taking advice rather than giving it.