Back in the mix
Burnley goalkeeper Lee Grant talks managerial changes, winning runs and navigating the transfer window.
Last Updated: 27/05/13 11:03am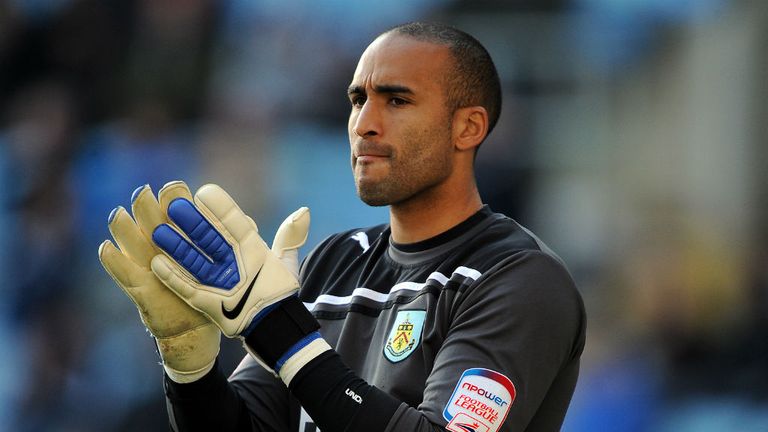 The 2012/13 campaign has passed the halfway stage, with promotion pushes and relegation battles starting to take shape.
Here at Sky Sports we continue to take you to the very heart of the Football League, with our Spotlight features intended to give you a greater insight into the clubs and players that keep us on the edge of our seats.
We are hoping to bring you the views and thoughts of a representative from each of the 72 teams over the course of the season, with those involved asked to give their take on the division they compete in, the club that pays their wages and those we should all be keeping an eye on.
Burnley's Lee Grant is next in the hot-seat, with the Clarets goalkeeper taking time out to discuss managerial changes, winning runs and navigating the transfer window with Chris Burton.
How would you sum up the season so far for Burnley? It's been a bit up and down hasn't it?
It's been a bit of a tale of two spells. Under the first manager, while we have got pretty much the same side, we have got a very different feel to the team. We have become a bit of a different animal in terms of the type of team we are and how we're performing. We seemed to be very much focused on going forward and attacking. Since the new manager has come in, we have managed to keep hold of that attacking sense but have also added the other stuff as well. We are starting to keep a few clean sheets, so it has been good. It has been a bit of a mixed bag really.
Has there been a concerted effort under the new boss to tighten things up, with three clean sheets in as many games reward for that hard work?
There has been a shift. There has been a lot of hard work on the training ground. There wasn't a lot wrong under the old regime, we weren't going about things the wrong way or approaching games thinking we'll just score more than the opposition, that wasn't the case. It's just that we have looked at a few finer details and have cleared up a few grey areas. There has been a lot of hard work, good information on and off the pitch - on the training ground and with videos. We have managed to tighten things up and it's been good.
Winning games helps you to look good as well, and you must be full of confidence at the moment after winning three on the bounce?
In this division, everyone talks about three wins on the spin and that is very difficult to do in this league. We have managed to do it for the first time this season and look where it has put us already. It's put us right up in touch with the top six, so that's nice. We aren't going to get carried away because we have seen the other side of it and how hard we found things earlier on in the season, but we are pleased with how things are going and how we are working.
The Championship is ridiculously competitive isn't it - you consider that you have been bottom-half for much of the season and now you are just outside the play-off places?
That's right. You look at some of the sides that are still finding it difficult in the bottom half of the table - really big clubs and clubs that even myself were predicting to finish in the top six comfortably. It just shows you how difficult things can be, especially for some of those clubs that have come down from the league above. They need time to adjust and settle in and teams are finding out how difficult things can be in this division.
Were you looking towards the top six at the start of the season, or is it dangerous to get too far ahead of yourself in the Championship?
The main thing in this league is just to try and be as competitive as possible. We started the season with high ambitions but with the strength of some of the clubs that were coming down, it was always going to be a really, really tough ask. As you've seen over the last few weeks, we have strung some results together and now we are obviously aiming to finish up the division as high as possible.
It was always going to take a bit of time for everything to click wasn't it, given that the change of manager wasn't down to results? It was an odd one.
With the new manager's arrival, it was a bit strange. From a players point of view, we didn't feel that we were a million miles away and there were still a lot of players settling in under the old manager because he hadn't been here a great deal of time. It was all a bit of a shock, but I think the lads have adjusted well and have bought into a lot of the stuff that the new management have tried to put in place and have taken things on board.
You have now worked with two highly-rated young coaches in Eddie Howe and Sean Dyche, has that been a welcome change?
It's always an eye-opener. I have seen a lot of managers in my time and it's always good to learn new things from different managers. Each manager brings their own personality, but a lot of them bring very different methods. We have been pleased with what they have presented to us, in terms of playing, and it's notable by the results on the pitch.
Looking at the division as a whole, who has impressed you this season?
Cardiff were a really, really strong side. Cardiff and Brighton are two of the sides that have really stood out for me. Leicester were also strong. We had two tough games against Leicester. For me, those are the three teams that have really stood out. Cardiff, especially with their strength in depth, but Leicester and Brighton as well look like dangerous sides on their day. There are good sides throughout this division, but those three really stood out.
And closer to home, who has caught the eye for Burnley and maybe not been getting the recognition they deserve?
Honestly, I would say the whole squad have contributed fantastically well over the last couple of weeks. I think that is one of the things that has pleased the manager and staff the most, is how well the squad have come on. You will often find that there is a starting XI and then a divide, but there isn't really that at the moment at Burnley FC. Everyone and anyone is good enough for a starting shirt and the 11 lads that are lucky enough to earn the shirt are having to work hard to keep hold of it. It has been really good and I've been really pleased. For me, as a goalkeeper, it has been nice to see a back four really playing well in front of me. I wouldn't like to single any of those guys out because they have all been playing well. There have been players that have come into the side from down the sidelines that have done well also, so it's great and a real solid team effort at the moment has got us to where we are.
There are a few of the boys generating plenty of interest with the transfer window open, are you hoping to see no-one leave and maybe a few come in?
Ideally, yes. The difficult thing that most clubs find is that the financial situation restricts movement coming in. There isn't a huge amount happening in this division. I don't think we are one of the sides that is blessed with an endless pot of money. Anyone that does come in has to be right for the club and right for the club in the long-term as well. Keeping hold of the players that are really playing well and maybe attracting envious eyes from elsewhere, it's important to keep everything in place.
There are plenty of players at Burnley aren't there who would not look out of place in the Premier League and would like to grace that level sooner rather than later?
Most definitely. There are players within our squad that have made a lot of headlines this season, young players also. They will have ambitions and there is no reason why those ambitions can't be achieved with Burnley Football Club. It's a case of trying to keep hold of those players. There are players out of contract, but hopefully the club can sort things out regarding keeping hold of those players as well. That would be good and nice for everybody concerned and would bring a bit of stability and continuity to the squad.
Finally, what are the targets heading forward from this point, for yourself and the club?
For me personally, I want to continue to be part of a successful defensive unit - which is what we are doing at the minute. So that's stopping the ball going in the net as a priority for us as a back five. Then, as a side, I wouldn't like to start talking about the top six or anything else, it's just a case of concentrating on continuing to do what we are doing at the moment - which is working really hard to contain the opposition, to create match-winning situations and maximise match-winning situations at both ends of the pitch. If we continue to play well, stay in the top half, there is no reason why we can't be within touching distance at the right time near the end of the season.