Wading in
Birmingham's Wade Elliott discusses summer overhauls, finishing strongly and a positional switch.
Last Updated: 27/05/13 11:06am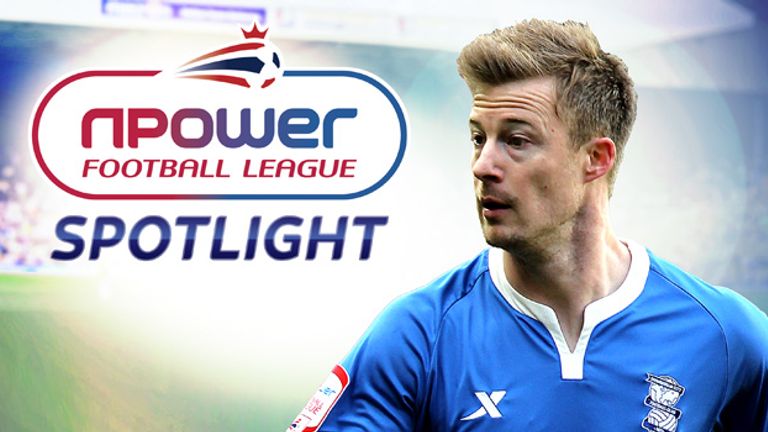 The 2012/13 campaign is about to enter the final straight, with promotion pushes and relegation battles now in full swing.
Here at Sky Sports we continue to take you to the very heart of the Football League, with our Spotlight features intended to give you a greater insight into the clubs and players that keep us on the edge of our seats.
We are hoping to bring you the views and thoughts of a representative from each of the 72 teams over the course of the season, with those involved asked to give their take on the division they compete in, the club that pays their wages and those we should all be keeping an eye on.
Birmingham's Wade Elliott is next in the hot-seat, with the Blues midfielder taking time out to discuss summer overhauls, finishing strongly and a positional switch with Chris Burton.
How would you sum up how the season has gone, is it fair to say it's been a frustrating one?
For a club the size and stature of Birmingham, we are not at the end of the table we would historically expect to be at. There has obviously been a lot to contend with. We have to qualify that by saying there has been a lot to contend with off the pitch. There are 13 games to go and we are just looking to get as many points as we can between now and the end of the season and try to finish as high up the league as we possibly can.
It has been a case of moving from one drama to the next at times, is it difficult to maintain focus with so much going on around you?
As players we are pretty well protected. The staff at the football club keep us away from all of that and we understand that we are there to play football and we are fortunate in that all the other aspects going on off the pitch, we're sheltered from that a little bit and we're fortunate that we only have to focus on what's going on on the pitch.
Can events on the pitch this season be put down to how you started, with inconsistencies early on meaning you are always playing catch-up?
A little bit. I think we came off the back of the play-offs last season, we finished fourth in the league, and obviously that raised expectations. Then we have had two summers in a row now where there has been a complete overhaul of the staff. I think we had six or seven debuts in the first game of the season, we have obviously brought in a lot of players, we have brought in something in the region of 16 or 17 players this season. It's two summers in a row now that the club has had a lot of upheaval and when that happens it obviously follows that it takes a little bit of time to find your feet. We were probably victims of that and got off to a bit of an inconsistent start. But we have shown signs to suggest that we - it sounds a bit silly on the back of a bad result at Watford - but it has generally been an upward curve for us in the last couple of months. I think we have shown that we are able to find a level of consistency, but we are at a stage of the season and in a position in the table where we're not challenging for the spots that we would have liked to have been.
Things have improved of late haven't they, one defeat in seven is pretty decent form?
You are always looking at where you can improve. Like I said, we came up against a very good Watford side who were on the day a little bit more clinical than us, outside of that we have started to become a bit more of a settled team and been able to find a little bit of form. It's going to be vitally important that we keep that going until the last few weeks of the season.
Does the recent upturn in fortunes mean you can start looking upwards now, rather than over your shoulder?
I think you always have to do that. The key for us recently has been not to look too far ahead. We have a big game at Peterborough on Saturday. What we have been doing recently is not looking at the table and wondering, we just have to focus on how we finish and focus on our next game and put all of our attention on to that. We have to focus on getting a result and then move onto the next week, keep doing that week by week and see where that takes us.
I suppose you can't afford to look too far ahead can you in a division as competitive as the Championship?
It's a really difficult league to call from week to week. One thing I have learnt from my experiences is that you have to be up for it every week. It doesn't matter if you're playing one of the so-called big teams or one of the not so big, if you're not at the races then you are liable to get turned over. We just have to keep going week to week. It sounds straight forward, but it's easy to get caught up in things because it's always so tight. If we focus week to week and on the game in hand, that's an approach that will serve us well.
On a personal level, are you happy enough with how the season has gone?
You always want to be doing better, but I'm really enjoying my football and really enjoying being at the club. You are always looking at areas you can improve and get better on. I'm just concentrating on the last 13 games, trying to come back strong with some half-decent form and try to help us get a few more results.
You've made 30-odd appearances again this season, so that shows that you aren't slowing down and that you are doing enough to merit a regular role in the side doesn't it?
We're fortunate that we have got a good staff and we are well looked after and they keep us in really good shape. It's different to when I started, everything nowadays is monitored, it's about managing your workload and your recovery. I've changed as a player in the last few years, a few years ago I was an out-and-out winger and I'm fortunate that I've been able to adapt my game slightly and I've been lucky that physically I'm in decent condition. It's similar to the team, really, you just try to not look too far ahead, just enjoy the moment and I'm really enjoying my football. I'm making a decent contribution to the team and I feel pretty confident that I can keep going for some time yet.
Is it a waiting game on the future front for you then, you can't afford to expect anything?
As it stands I'm contracted to Birmingham and I will just concentrate on doing my best for the football club. One thing I have learnt over the years is that you can never get too far ahead in football. It showed when I moved to Birmingham - I was sat at home in my front room at 7 o'clock watching transfer deadline on Sky Sports and three hours later I was at Birmingham signing. You can never look too far ahead in football. I'm just looking forward to hopefully being in good form between now and the end of the season and trying to stay healthy.