Crystal Palace's Stephen Dobbie is
Ian Holloway can lead Crystal Palace to promotion to the Premier League, says Stephen Dobbie.
Last Updated: 24/02/13 5:14pm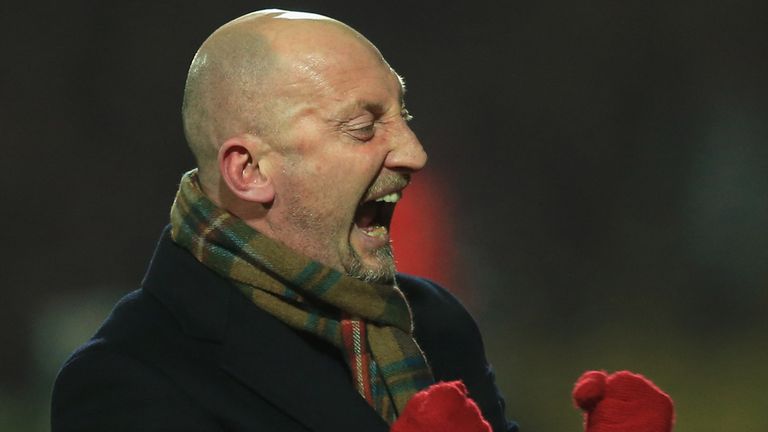 Palace suffered a 1-0 defeat to Sheffield Wednesday on Saturday but the former Swansea forward, who is on loan at Palace, insists the belief remains high that they can finish in the Championship top two under manager Ian Holloway.
Palace are fourth in the table and four points off second-placed Watford after Leroy Lita's strike secured the victory for Wednesday.
"We are doing ok at the moment," he told Goals on Sunday. "It was a disappointing result yesterday. We may be could have sneaked it but we are still four points behind the automatic promotion so the boys are optimistic.
"It was a great finish from Leroy. I know what he can do in the box. We should have got something the way we played in the second half. They are quite a long ball team so it was quite end to end but I think we will have a great chance under Ian Holloway.
"Under Ollie he is going to motivate us and I think we have got a good chance but I think people underestimate the standard of players in the Championship because there is quite a number of players who can play at a higher level."
Dobbie was part of Goal on Sunday's preview to the Capital One Cup final between Bradford and his former side Swansea. He scored one of Swansea's four goals in the Championship play-off final when Brendan Rodgers' side beat Reading to reach the Premier League in 2011.
And he sees similarities between the way Rodgers motivated his squad in the latter stages of their promotion push two years ago and the approach of his current boss Holloway.
"Brendan is quite similar to Ollie in that he was a great motivator. You find the players want to play for him because of the kind of man he is and I think that drove us on a lot in the last part of the season.
"We managed to get win where we were may be struggling to at the start of the season. It is a hard league to get out of but you need to get a run going."