Pride of Lions
Millwall midfielder Jimmy Abdou discusses cup runs, a day out at Wembley and second tier survival.
Last Updated: 27/05/13 11:06am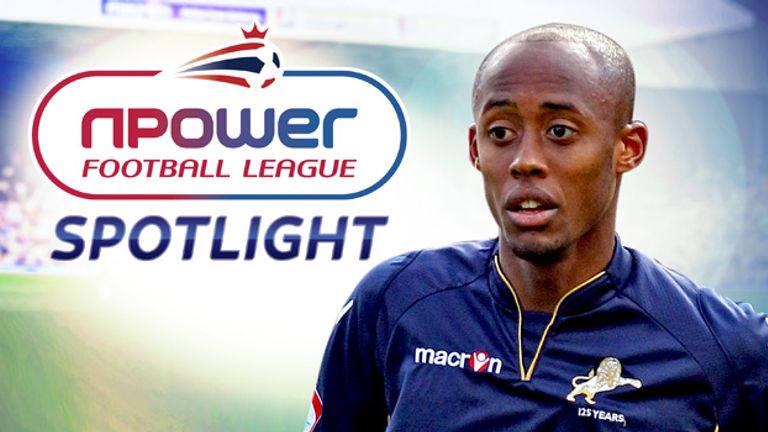 The 2012/13 campaign is about to enter the final straight, with promotion pushes and relegation battles now in full swing.
Here at Sky Sports, we continue to take you to the very heart of the Football League, with our Spotlight features intended to give you a greater insight into the clubs and players that keep us on the edge of our seats.
We are hoping to bring you the views and thoughts of a representative from each of the 72 teams over the course of the season, with those involved asked to give their take on the division they compete in, the club that pays their wages and those we should all be keeping an eye on.
Next in our hot seat is Millwall's Jimmy Abdou, with the Lions midfielder taking time out to discuss cup runs, a day out at Wembley in the FA Cup semi-finals and second tier survival with Chris Burton.
It has been a good week for the club on the back of a testing run, it must be nice to get some positivity back?
To create momentum you need to win games, so that's what you look to do in the cup. Hopefully we can continue that into Saturday and win again.
Has the cup been a welcome distraction, given how things have gone in the league?
Yeah, that's what we want. We go onto the pitch to win every game, in the cup or the league. That's what we did in the cup and we want to get back on track in the league. Hopefully this win will help us and help us through to the end of the season.
You now have a day out at Wembley to look forward to and I imagine that day can't come soon enough can it?
It's something we are looking forward to. It's a great place to play for any footballer, so we will enjoy it. Hopefully we will get the win when we are there.
You've played there before, but it's still a special place to play isn't it?
Yeah, it is. I'm French, I have spoken to friends back in France and they are all aware of the stadium and the cup and everything it represents here in England. To say I am going to play at Wembley, it's a great thing.
Wigan have got plenty on their plate at the moment, do you think that could play into your hands?
We will look to take our chance, any chance. Wigan are a good team, with good players, they play in the Prem. We are going to be underdogs, but we are going to give everything we have to win this game and we are ready for it. Let's see what happens.
It's been a good year for Football League sides in the cups this season, is that down to clubs playing without fear and giving every game a good go, regardless of who they are facing?
There is reward for any teams, especially the teams below. I think it is good for football and good for everyone. We are happy to be here.
Are you hoping that the midweek win in the cup will be the spark you are looking for to end the season strongly, because it's been tough recently hasn't it?
We know that we have been playing some good games, away from home as well. We knew before it was going to be tough. We are in a difficult situation at the moment in the league and we need to win games. There is no option for us, we just want to win games. Hopefully this win will help.
What's happened in the league because you were flying around Christmas time?
I don't know. I can't explain it. It just happens. The Championship is a tough league and anyone can beat anyone. You have to be focused all the time and positive all of the time. We just have to concentrate now because we know we can do a job. We have done it before, so hopefully we can get back on track.
You haven't been losing badly, though, have you - with the exception of the Peterborough game?
That game, we didn't play bad but we gave a lot of goals away and made a lot of mistakes. The end result was that we lost the game and we have to rectify that. We have to stay focused and concentrated and look forward to every game.
Is it just a case now of getting a couple more wins, getting to 50 points and then taking things from there?
I think that is the routine for the moment. We need to get as many points as possible from the next few fixtures to be safe. We have to play well game after game and it won't be easy. We just have to focus on each game.
On a personal level, are you happy with how the season has gone?
It's important for any player to play games and I think that I have done that this season. I am pleased with my season and I want to finish well. It's not about how you start, you have to finish well as well. My aim now is to finish strongly with the squad.
Who has impressed you at Millwall this season?
This season, after last year when we struggled as well, we have come back stronger. I think everyone has focused. I think Danny Shittu has been a good leader this season. As a team, I think we have played very well as well.
Finally, is it going to be possible for you to enjoy the rest of the season, with every game set to have so much riding on it?
That's why everyone loves football. That's what we want. That's why we play. It's a good situation and we have to be excited about every game.