Point to prove
Blackpool striker Nathan Eccleston discusses injury troubles, managerial changes and future hopes.
Last Updated: 27/05/13 11:09am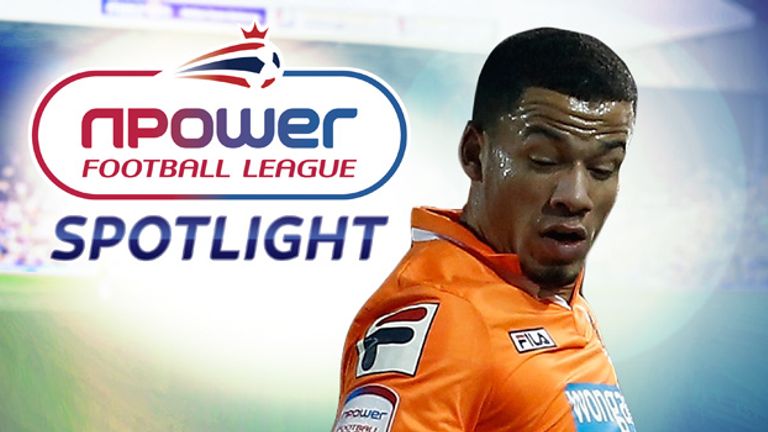 The 2012/13 campaign has entered the final straight, with promotion pushes and relegation battles now in full swing.
Here at Sky Sports, we continue to take you to the very heart of the Football League, with our Spotlight features intended to give you a greater insight into the clubs and players that keep us on the edge of our seats.
We are hoping to bring you the views and thoughts of a representative from each of the 72 teams over the course of the season, with those involved asked to give their take on the division they compete in, the club that pays their wages and those we should all be keeping an eye on.
Next in our hot seat is Blackpool's Nathan Eccleston, with the promising frontman taking time out to discuss injury troubles, managerial changes and future hopes with Chris Burton.
It's been a bit of a frustrating season for you hasn't it - injuries have prevented you from making the impact you had been hoping for?
I guess, on the whole, it has been a bit of a disappointing season for me. I signed for Blackpool and after 10 weeks Ian Holloway left to go to Crystal Palace and then I went on loan and got injured in my first game. (Michael) Appleton then took over - it's been a bit unfortunate. Having three managers, it's a bit rough, to be honest.
You've shown in the past what you're capable of, do you just have to keep plugging away?
I left Liverpool in the summer because I had a year left on my option, but I spoke to Brendan Rodgers and he said to try and go out and play football. He said he couldn't guarantee me games and at that stage, at 21, I needed to be playing competitive football. I understood that and I spoke to Ian Holloway. He liked me, showed confidence in me by signing me and I felt that Blackpool were right for me because they are an attacking side with young players. I wanted to be involved in that. I then went on loan just to keep my fitness up, then I got injured in my first game. I did my hamstring twice after that and there have been the two manager changes. It's been disappointing.
It's just about getting games now for you isn't it and showing what you can do when fit and firing?
Definitely. Any young player, I have seen people go out on loan and show promise. Tom Ince did that. I played nine times for Liverpool. The manager must have seen something in me that he thought was good enough. I just wanted to go out and do well. I'm more than confident that I can get goals at a Championship level, I just need an opportunity. I just need to be patient. I'm just now trying to stay as fit as possible.
Did you speak to Tom before signing for Blackpool - as he is the benchmark isn't he for players leaving big clubs and turning their careers around in the Championship?
There are a number of players that I have spoken to about leaving and making that step. I had been with Liverpool for seven years and two of those seasons were with the first team. To leave was a big thing. I spoke to Tom for half-an-hour when I was signing my contract, asking him about Blackpool and opportunities there. Ian Holloway is a manager who has taken players who are hungry to do well. Sometimes players that are at big clubs don't question their ability, but it's a lot harder to break through. Looking back at what Tom has done, maybe if he had been at Liverpool he wouldn't have done as well, but he's been playing at the top of the Championship. I also spoke to Nicky Blackman, who didn't really get a look in at Blackburn, went to Sheffield United in League One and did really well there and then moved in January to Reading. I am hungry to do well, I want to succeed in football and play at the highest level possible. Sometimes you have to go out there and earn your stripes.
You've done the business in League One, are you confident that you can shine in the Championship when that opportunity comes?
Definitely. Unfortunately this season at Blackpool, it hasn't really gone that way. It has been unfortunate that the new managers have come in, I have been on the back foot with injuries. When I've played my games, I have had a good go. I just need a run of games now where I am going to play on a regular basis. I need that opportunity to do well. When I have been out on loan, the games that I have started, my goals to games ratio has been very good. It's just about playing consecutively on a more regular basis and taking things from there.
It's been a frustrating season for all concerned hasn't it - I imagine no-one at Blackpool was looking to be 14th at this stage?
I guess so. At the start of the season we were playing really well. When I left Liverpool to speak with Blackpool, I spoke to the manager at the time and they were looking to play good football and aim at the Premier League. I didn't know how good they actually were. When I came here, they were playing very well really. Then Ian Holloway left, that maybe unsettled a few players and a lot of players are coming into the final stages of their contracts as well, so there has a bit of bit uncertainty. We weren't looking to be in this position, but hopefully we can get ourselves out of it and remain in the Championship for next season.
What does the future hold for you looking ahead to the summer?
Blackpool do have an option on me. Nothing has been discussed as yet about next season. I'm not sure whether I am going to be at Blackpool next season or if I'll be going somewhere else on a free. It just comes down to where I think I'm going to get the most game time. At 22 I just need to be playing football on a regular basis - whatever league, whatever team it is, I just need to be playing football and showing people what I can do. Hopefully we can come to some arrangement, but if it isn't meant to be at Blackpool, then I would like to go elsewhere and play football. I want to show people what I can do.
Do you feel that you still have something of a point to prove, and are determined to do just that?
Yeah. I think any player, whether you are young or old, you can always improve. I have high hopes for myself. I have played European football, I have played Premiership football. That's something I want more of. I believe in myself that I can play at a good level. Hopefully I can go on and do it. I am confident in myself. I am just looking to score goals and create goals.