Egyptian celebration
Graeme Bailey catches up with Hull City's Egyptian international duo Gedo and Ahmed Fathi.
Last Updated: 24/06/13 3:30pm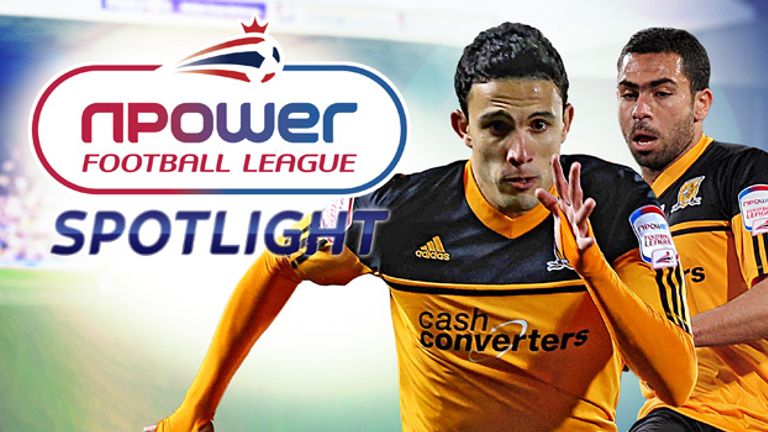 The 2012/13 campaign has entered its final straight with the play-off finals nearly upon us, but we continue to take you to the very heart of the Football League, with our Spotlight features intended to give you a greater insight into the clubs and players that keep us on the edge of our seats.
We have aimed to get the views and thoughts of a representative from each of the 72 teams over the course of the season, with those involved asked to give their take on the division they compete in, the club that pays their wages and those we should all be keeping an eye on.
With Hull City celebrating their promotion to the top-flight, Graeme Bailey has caught up with Egyptian international pairing Gedo and Ahmed Fathi - who both joined the club on loan in January - they talk about their joy of promotion and their future hopes.
Hull City promoted, that is what they wanted when you arrived, how does it feel?
Gedo - It is amazing, it has been such a great experience and to cap it with promotion is brilliant - but we are so happy for the fans, the club and the owner, they all deserve it.
Ahmed you played on the final day, that must have been special?
It was great, but at the final whistle we didn't know and we had to wait for Watford's result - but once that came in it was amazing. A real dream come true.
When you both moved to England in January, how much of a culture shock was it to finally get a move to England?
Gedo - It wasn't a shock. I have wanted to play in England for a long time and now I finally have my chance and I plan to show people what I can do.
Fathi - I've played in England before with Sheffield United; moving to Hull was not a shock to me.
How much did you know about England before the move?
Gedo - In Egypt we watch a lot of English football but mainly from the Premier League. With Elmo playing for Hull this season there has been more coverage of Hull in Egypt.
Fathi - I signed previously with Sheffield United in the Premier League so I knew all about English football. Unfortunately Sheffield United were relegated. I remember the great fans in Sheffield. I am sad to see them in League One and hope that they can be successful once again.
Is it your dream to play in the Premier League?
Gedo - Of course. This is why I came to Hull. It was not my plan to play in the Championship but Hull have great ambition. I am here to be successful.
Fathi - I want another opportunity in the Premier League. Last time I was here I was just getting used to the language, the culture and the football but Sheffield were relegated. Now I want to go again.
You both were taken in by fans, who appreciated what you did?
Gedo - Yeah they were amazing, we are used to some remarkable atmospheres from Egypt both domestically and internationally, but here in England it was special.
Fathi - I knew from before how passionate English fans can be and they have lived up to everything I expected and that final day was almost beyond words.
Your obviously both being linked with permanent deals to Hull now, is that the dream?
Gedo - Obvioulsy I would like to stay, but that is not me to decide - I want to play in the Premier League and as I said I hope that is with Hull City.
Fathi - It has been a great experience and I would love to be part of this club being in the top-flight.