Shaun Derry, Kevin Davies and Guy Branston kick-off their blog
Shaun Derry, Kevin Davies and Guy Branston kick-off their brand new Football League blog.
Last Updated: 25/09/13 12:27pm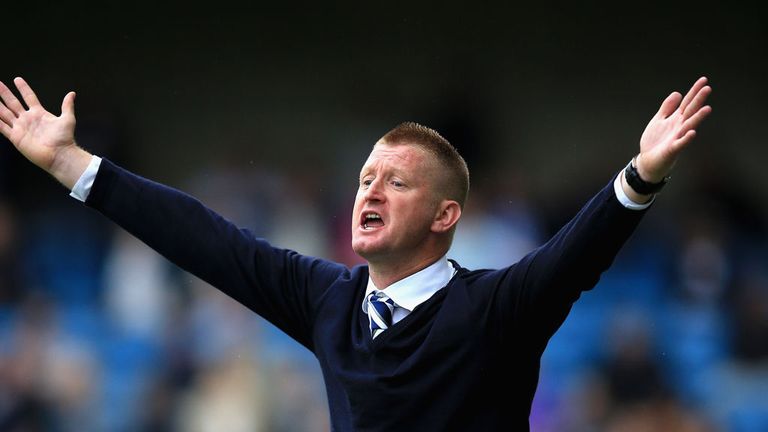 As well as a weekly blog from Crystal Palace striker Kevin Phillips, we will also be speaking to three seasoned campaigners in the Football League.
On-loan Millwall midfielder Shaun Derry, Preston frontman Kevin Davies and Plymouth defender Guy Branston - who all appear on Sky Sports News Radio's Football League Hour - will be chatting to us about all manner of footballing issues.
In the first article of the campaign, Derry looks forward to a trip to Hillsborough and Davies explains why he signed for North End, while Branston discusses his return from injury and some of the characters in the Argyle camp...
SHAUN DERRY
Even though we lost 1-0 to Huddersfield and it wasn't the best home debut for me in that respect, the fans' reaction to me was really warming, but I knew I wanted to come to Millwall as soon as Steve Lomas made the phone call and showed his interest. It is a good club for me location-wise, the manager shares the same sort of characteristics as what I do, and I really wanted to be a Millwall player.
The start has not been what anyone at the football club expected and losing three out of three in the league is hard to swallow, but even though I can only gauge the mood since I've been here, there is no negativity around the club.
We lost convincingly at Ipswich and made schoolboy errors for the three goals but anyone who saw the Huddersfield game will say we were unlucky not to get anything from it with the chances we created.
Steve has got us working hard to rectify the problems but we know we have quality, not just in the six or seven new guys but also in the players that were already at the club, and guys like Alan Dunne and David Forde, who are Millwall through and through, show you the way of the club.
We are looking forward to Saturday's game against Sheffield Wednesday and being an ex-Sheffield United man it will be a big game for me, even though my time at United didn't coincide with a Sheffield derby.
Going to Hillsborough is always tough but I hold fond memories of going there with Crystal Palace a few years back when we needed to get a result to stay in the Championship and did just that. The atmosphere on that day was really special and I can't wait to play there again on Saturday.
KEVIN DAVIES
I had a lot to weigh up in the summer after leaving Bolton and the big question for me was what level I wanted to play at as you always want to play at the highest level you can, but when you get to the stage of your career that I am at you take other things into consideration as well.
Preston offered me a two-year deal and the opportunity for me and my family to stay where we are, but having met up with the club I was really impressed with what the manager and owner had say.
They wanted me to come and help them get promotion - which was what I wanted to hear as I didn't want to be in mid-table and have an average season - and with a manager in Simon Grayson who knows how to get out of this league and the squad we've got, we feel we can be amongst it all.
The England call-up was the highlight of my career, but if we got promoted this year and played in the Championship next season it would be a fantastic feeling, as I have only experienced one promotion before, when I went up to League One with Chesterfield through the play-offs.
We have Coventry at the weekend and it must be tough for their fans and players with the points deduction and playing in Northampton; the troubles seem to have been brewing for a long time, but they are doing well on the pitch and have banged in nine goals in their last two games.
It will be a tough game for us but we are looking forward to it and hopefully getting that first win under our belts.
GUY BRANSTON
I played my first game of the season on Saturday after a calf injury and it went really well with us getting our first win against Cheltenham. I was a bit surprised at my levels of recovery after being out for a while, but I still feel that I have a good few years left even though I am in my mid-30s.
There is competition for places all around the pitch so the centre-half link-up between me and Neal Trotman, who I was with at Oldham, might be short-lived, but we did well on Saturday; we couldn't do a lot about the goal we conceded and we are looking to keep clean sheets for the team.
I can only go on what the gaffer, John Sheridan, is saying and he is talking about pushing for promotion and driving forward this year, rather than looking behind us.
Sometimes when you get stuck in a rut you think: 'Here we go again', but the gaffer wants to stop the aura that has been around the club for a few years and start his own aura.
He wants a confident, up-front attitude with exciting football and players who want to win things, as that's what fans want to pay their money and come and see.
There is a lot of good banter at the club; Paul Wotton is quiet but deadpan when he says his things, and we also have Romuald Boco, or Boco Rocco, as we call him.
He is a Beninese international who has been around the block at Burton, Accrington and abroad - and speaks better English than I do! We have a bizarre group of lads but an intriguing one.
Don't forget to tune in to tune in to the Football League Hour every Thursday night at 7pm on Sky Sports News Radio or download the podcast here