Royal approval
Reading skipper Sean Morrison discusses world-class arrivals and responding to relegation.
Last Updated: 29/10/13 5:19pm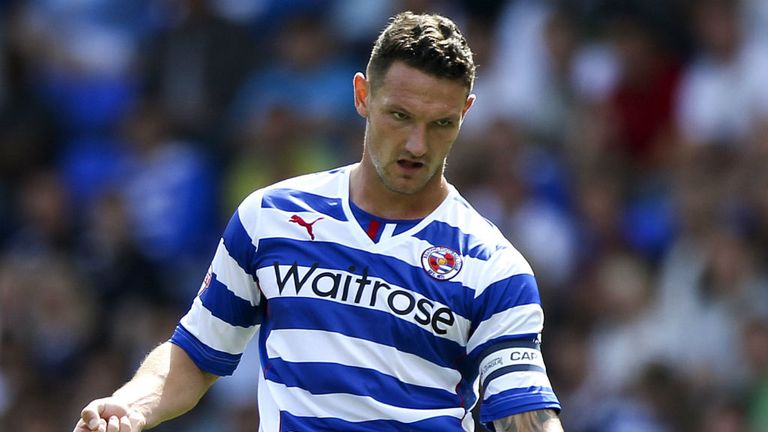 The 2013/14 campaign is now well under way, with divisions beginning to take shape.
Here at Sky Sports we will look to take you to the very heart of the Football League over the coming months, with our Spotlight features intended to give you a greater insight into the clubs and players that keep us on the edge of our seats.
We hope to bring you the views and thoughts of a representative from each of the 72 teams over the course of the season, with those involved asked to give their take on the division they compete in, the club that pays their wages and those we should all be keeping an eye on.
Reading's Sean Morrison is next into the hot-seat, with the Royals skipper taking time out to discuss world-class arrivals and responding to relegation with Chris Burton.
Are you happy enough with how things have started? It's been a solid opening hasn't it?
It's been a very solid start. We should probably have a few more points than we do, but it's been one of the best starts we've had in a long time. We're optimistic. You know what it's like with this league so as long as we stay in the pack for most of the season, anything can happen.
You got back to winning ways against Doncaster and then had the frustration of conceding late against Millwall. It's been a bit like that recently hasn't it - win, draw?
Towards the end of the season, that's what you will be looking for - about two points a game. If we get a win and a draw every game, we will be right up there. I think it's about an average of two points a game for automatic promotion. Obviously we want to stick to getting wins and putting ourselves on a winning run, but as long as we aren't losing games and we can pick up as many wins as possible, we will just try and catch up with the top two - Burnley and QPR. We have got QPR in a couple of weeks, Sheffield Wednesday this Saturday, so it's a massive game if we can get an away win and come back for the big one against QPR on the telly on Saturday.
You've got a lot of Championship experience in the squad haven't you, that's only going to help?
We have got lots. A lot of the team that won the Championship a couple of years ago are still here. The more experienced players we have got and the more players we have that have played in this league, that's only going to benefit everyone in the long run - especially the young lads coming through like myself, Jordan (Obita) and people like that. The more experience the better.
The gaffer has been there before and knows what it takes to get out of the division, you need that experience off the pitch as well as on it don't you?
You probably need it just as much off the pitch as you do on. Obviously with all of the prep that goes into the games and knowing the league and knowing how to play against the teams in the league is one of the main reasons for the teams that go up into the next division. Then, once you are in the Premier League, it's about staying there. We have got a lot of experience, especially with the gaffer, he has done it before, so we have got all of the components you need. We just need to put it together on the pitch and hope for the best.
You have got that stability as well - when you look at the likes of QPR and Wigan and what they lost over the summer, you haven't had that. You didn't lose too many did you?
No we didn't. That's one of the big things we have got this season, we kept a lot of the squad from last year. We only lost a couple and we have got a very good Championship squad here. Hopefully we can put a nice little winning run together and catch up with the top two.
And when you see the likes of Wayne Bridge and Royston Drenthe coming in, that must help to boost the squad?
Massively. Like you said, we kept a lot of the squad so we have already got a brilliant squad and then you add the likes of world-class players like Bridgey and Royston. They bring so much to the squad on and off the pitch. Roy's injured at the moment but he should be back soon and Bridgey has been fantastic for us this year.
What's it like having Drenthe around the place - he's such a talented boy isn't he but maybe hasn't made the most of what he's got?
He was going to Real Madrid for millions of pounds when he was 20-21, so he's got all of the ability in the world. He's a fantastic player. Hopefully with the manager that we have got and the players that we have got around him, we can try to bring the best out of him.
And you add to him the likes of Pogrebnyak, Sharp, Le Fondre, you have got so much firepower haven't you - there aren't many sides in the division that have got as many forward-thinking players as you?
No, there aren't. I think with our wingers, midfielders and strikers, I don't think there is probably a better bunch of players than what we have got going forward in this Championship. Definitely not. Not as many anyway. The amount of players we have got that are so good going forward, we have got them in abundance. Once they all start firing in the goals and hitting top form, we are going to be a formidable force to play against.
They are all at a good age as well aren't they - the likes of Robson-Kanu, Le Fondre, McCleary?
There aren't many of them that are really getting on. We have got a lot of young players that are in their prime or coming up to their prime. There is not a better team in the Championship that has got as much firepower as we do.
On a personal level, are you happy enough with your form and how the back four has shaped up?
We are, very. We conceded a penalty at the weekend, but Feds has probably had to make one save in the game. We put a nice little run of clean sheets together before the international break and hopefully we can go back to getting our clean sheets and take the pressure off the forwards a bit. We'll be fine. We started off well to the season, so we just need to carry on.
For you, along with a number of the other lads, you've had that taste of the Premier League now haven't you and it leaves you wanting more?
Exactly. Once you get there and you experience playing against top teams, playing against the best players in the world, in the best stadiums in the world, it makes you want to be back there as soon as possible. It was devastating getting relegated last year, but our squad wasn't good enough and we didn't perform well enough. Hopefully this year we can put it right and go back up to the Premier League and try to show people what we are really made of.
You've been made skipper, that's a nice bonus isn't it but brings added responsibility as well?
Yeah, it's nice. I didn't expect it at the start of the season so for the manager to show that faith in me and believe that I am in a position to captain the side, is a massive achievement for myself. I have said before that it is probably my biggest achievement in football so far - definitely a personal one. It is such an honour to be able to walk out and lead the boys out every weekend.
There has been talk of a new contract, is that something which is going to sort itself out?
It's on the cards at the moment, it's just in the last process of getting done. Once that is finished and out of the way, I can just concentrate on my football and just get back to doing my business on the pitch.
There is no doubt in your mind then that you are at the right club for you and one that has helped you to make what you want of your career?
Definitely. When I first came here from Swindon, I had only played League One football. In the last few years I have been able to play in the Premier League, the Championship and I have done nothing but love it. Reading are definitely the right club for me at the moment.