Peter Beagrie
Football League Expert & Columnist
Peter Beagrie blogs on Middlesbrough, Yeovil and Leyton Orient
Peter Beagrie looks at which positions manager-less and mid-table Middlesbrough need to strengthen.
Last Updated: 08/11/13 3:07pm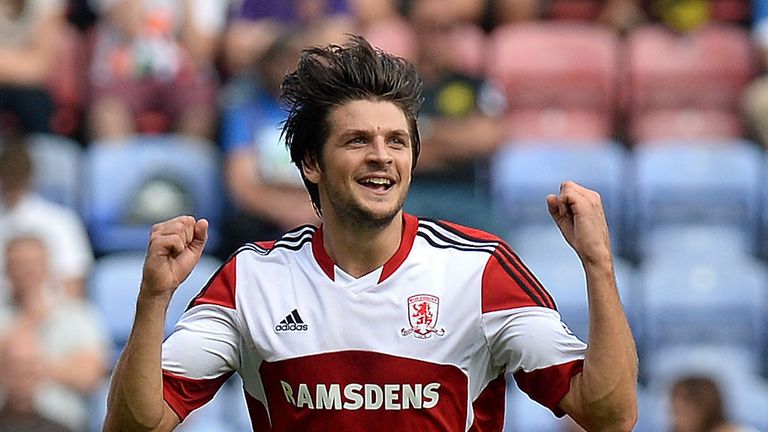 The former winger, who played over 770 games, representing clubs in all four tiers of the English footballing pyramid, including Manchester City, Everton, Bradford, Sheffield United, Scunthorpe, and Grimsby, forms part of the Sky Sports punditry team for all the big matches in the Championship, League One and League Two.
So if you have a poser for Peter, whether it's about your team, a player, match or incident that has caught your eye, or a wider point on the Football League, send it in.
Read below for this week's column where Beags gives his take on Middlesbrough, Yeovil, Leyton Orient, Southend, Cheltenham and Bristol City...
BORO COUNCIL?
How good or bad do you rate the current Middlesbrough squad and where would you strengthen if you were the new manager? Sutty
BEAGS SAYS: On paper, Sutty, the Boro squad is definitely top-eight material with regards to quantity, quality and experience, but I feel they have conceded some very poor goals due to fundamental errors. A dominant centre-half; a centre-midfielder who's creative and has a good range of passing; and a target man who can get his fair share of goals, as well as bring other people into the game, would be top of the list for me. I'm sure there will be no shortage of applicants for the Boro hot-seat and the man who gets it will hope to make inroads into the play-off places, but it still pains me to see a Boro legend like Tony Mowbray fail to get the required results for my boyhood team.
DO THE GLOVERS FIT?
Hi Beags, My team Yeovil are in their first-ever Championship season. Do you think they can stay up this season and be a Championship team for seasons to come following on from teams like Blackpool and Swansea? Ryan Lancaster
BEAGS SAYS: Hi, Ryan. First I would like to congratulate your team on its maiden promotion to the Championship, an incredible feat considering the size of the budget and fanbase - but, ultimately, it is the lack of the aforementioned and the restrictions it brings that could see your side slip back into League One. Sides like Scunthorpe, Peterborough, and Doncaster should be your direct comparisons, not Swansea and Blackpool and I am genuinely worried that even Gary Johnson may not be able to work his magic and keep the Glovers from the drop. Keep the faith, though, and cheer your boys on to what would be a great escape.
ROBINS COOKED?
How do you explain Bristol City's poor recent run? Thanks, Joe Mills
BEAGS SAYS: Fragile is how I would describe Bristol City at the moment; the lack of confidence and belief has had a huge debilitating effect on the club as a whole and it can be difficult to arrest the slide when it takes hold. One shining light has been the form of Jay Emanuel-Thomas and without his goals City's situation could be even worse. There is big pressure on the Robins' players - like there is with fellow strugglers Sheffield United - because they play for a big club with huge expectations and they must find a way to win games.
O's IN THE ZONE
What, if anything, could be the biggest threat to Leyton Orient's promotion charge? Ed Phillips
BEAGS SAYS:I think the biggest threat is injuries to key players with the squad not the biggest numerically. Your first XI, Ed, is as good as anyone's, as he been proved with the unbelievable start to the League One season, and the O's can cope without one or two but any more absentees would seriously test them; Shaun Batt (pictured) can ably replace any of the front four positions - out wide or up front - but apart from him, any other changes would weaken the side. Nevertheless, Russell Slade's team have been brilliant and a 3-1 win at Peterborough after going 1-0 down speaks volumes for the ability and mentality of the Londoners, who are blazing a trail ahead of far more fancied and illustrious sides. I spoke to Russell this week and he echoed my thoughts and reservations but he is thoroughly enjoying working with a group that is taking on board all his directions and has a serious will to win. Orient have capitalised on a great end to last season and long may this run continue.
DARK TIMES FOR MARK?
Do you think Mark Yates is under pressure at Cheltenham? Greg Hanley
BEAGS SAYS: Mark will be under pressure, mainly from himself, after two brilliant, nearly-but-not-quite seasons. Cheltenham have lost a few players along the way which is always a problem for sides who don't get promoted; the players who perform well get rewarded with moves, usually to a higher division, but not the club and its long-suffering fans.
SOUTHEND ON GLEE?
Phil Brown has had things tough since his early days at Hull, but do you think he and Southend are the perfect fit?Tyler Marsh
BEAGS SAYS: That is a difficult one, Tyler. I believe Phil to be a decent manager but he has little or no experience in League Two, having been accustomed to operating mainly in the Championship and League One. Brown's teams are usually defensive, solid and organised and so it is no surprise that only Oxford have conceded fewer goals in the third tier, but this often comes at the expense of a more fluid style and only Scunthorpe in the top 13 have scored fewer. Many people, including myself, were expecting a big season from Southend and with the division being so tight - five points separates first and 11th - they have a great opportunity to make a statement of intent.
Send your question to Beags using the feedback form at the bottom of this page or at the bottom of any of Peter's articles...