Turning the screw
Doncaster keeper Ross Turnbull discusses consolidation and putting himself in the shop window.
Last Updated: 21/11/13 6:27pm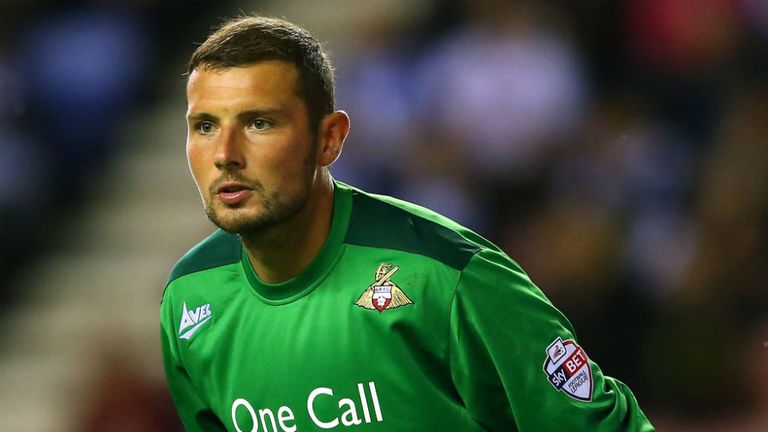 The 2013/14 campaign is now well under way, with divisions beginning to take shape.
Here at Sky Sports we will look to take you to the very heart of the Sky Bet Football League over the coming months, with our Spotlight features intended to give you a greater insight into the clubs and players that keep us on the edge of our seats.
We hope to bring you the views and thoughts of a representative from each of the 72 teams over the course of the season, with those involved asked to give their take on the division they compete in, the club that pays their wages and those we should all be keeping an eye on.
Doncaster's Ross Turnbull is next into the hot-seat, with the Rovers goalkeeper taking time out to discuss consolidation in the second tier and putting himself back in the shop window with Chris Burton.
How would you sum up how the season has gone so far? It's been a bit up and down hasn't it?
Yeah, I think so. We started the season pretty well. We got some good results and I think we were competitive in all of the games, even the games we lost we were competitive and still in the games right up until the last minute. We started well and then have had a bit of a tough patch recently. But we had a good result, a clean sheet and an away point at Barnsley, so hopefully we have turned the corner after a few disappointing results and performances.
It's never easy to settle in a new division is it, especially when you haven't got big money to throw at it, so was consolidation very much the target heading into the season?
I think so. We were always going to take it game by game. We started the season pretty well and were looking up. But it's a tough division and you have to take it game by game and then look and see where you are. Obviously with the budget being compared to other teams in this league, the majority have been in the Premier League over the last however many years. There are some big clubs in this league and obviously their budget is a lot higher than ours. If we can stay in the division that would be a good achievement, but if we can get a few good results then we'll be looking to achieve more than that.
The Sky Bet Championship is still tightly packed at the moment isn't it, anything can happen from here?
It always is. If you look at the past couple of years, a few wins and you end up being in mid-table. It's about trying to find that consistency now that can take us further up the table.
That said, are there any games you are already looking at and highlighting as being slightly more important than others?
Not so much. I don't think we have. We're taking it game by game. You might look at games personally and think that's one we could win, but we've been competitive in the majority of games that we have played and have picked up some good results against the so-called bigger teams in this league. I would say it's up and down. You see some results and they surprise people.
Friday could be a big one, though, couldn't it against Yeovil?
Both teams are probably looking at it as a game they could win. It's a good chance of getting three points, but that's the case for both teams. I'm sure Yeovil will be looking at us and thinking they can come to our place and take three points. It's going to be a big game. Both teams have come up from League One last year and are trying to stay in this league. It is going to be a big game but it's still early on in the season and there are plenty more games. There will be the odd six-pointer but, whatever way the result goes, it's not going to define which way the season is going to go.
It could be a big week for you, as you've also got Charlton to come on Tuesday. That's another big one isn't it?
Yeah, we play Charlton. All of the games are big, really. Obviously the teams that are around us you have to look at picking up points against. But, as I said, we've had some good results against the bigger teams. If we play well, on our day we are a match for any side in this league. It's just about having the consistency to do it every week.
Is it a case of finding a few more goals as well, as the defensive record is decent enough?
The defensive record is really good. We had a spell of three games where we conceded 11 goals, which wasn't good, but I think we have had six clean sheets this season, so that's pretty good - especially given where we are in the league table. Goals win games, as they say, so it's important to be scoring them and if you can keep not letting them, then that's even better.
You have got a young and inexperienced back four in front of you at the moment, how impressed have you been with how they have fared?
The young lads have been superb. Recently, Luke McCullough has come into the team and has done exceptionally well. He's been good, James Husband at left-back at the start of the season, 19 years old and he looks to be a real prospect. It's a long season, though, and we're going to need all the players. It's a squad game now and everyone needs to step up and be ready for when they are called upon, and in the last couple of games we have done that.
And maybe the promise of a few more fresh faces to come before the loan window closes, or again in the New Year?
That would be nice, if we could add to the squad, but that will be down to the manager and finances will have something to do with that. But it's always good to get players in and add competition for places and try to improve the team. If we could do that, then great. If not, we have just got to keep going.
On a personal level, you are playing regularly again and I take it you are enjoying it?
Yeah, really enjoying it. It's nice to be playing week in, week out. The defensive record has been pretty good, so I have been fairly pleased. We have had a few iffy results, but that's football and you are going to get them - especially in this league. It's been really good being able to play week in, week out again.
But you thoroughly enjoyed your time at Chelsea and have some wonderful memories to look back on?
Of course. I wouldn't swap it for the world. I spent four great seasons with them and was lucky enough to be involved in making history for the club. To be a part of that was pretty special.
You're still only 28, so is it all about playing now and putting yourself back in the shop window?
Yeah. That's what I wanted to do. I sat down with Chelsea and said I need to be playing more often, and they agreed. They said I had shown what I could do and wasn't playing enough - five, six, seven times a season, I needed more than that. I knew that personally. It's nice to be back out there playing and hopefully showing people what I'm capable of.
You've dropped back down into the Championship, it's a division you know and is it a case of taking one step backwards to hopefully take two forward?
Hopefully. Everyone's ambition is to play in the Premier League, and mine is no different. That's where all footballers aspire to be playing and hopefully I can do that. That's my ambition, to try and get back to that level.
Ross Turnbull was talking to Sky Sports on behalf of Sky Bet, the Title Sponsor of The Football League.
For a wide range of match odds and specials on all Football League matches and a £5 free bet every week, go to skybet.com.