Ram raid
Derby striker Chris Martin discusses Steve McClaren's impact at Pride Park and goal targets.
Last Updated: 03/12/13 5:50pm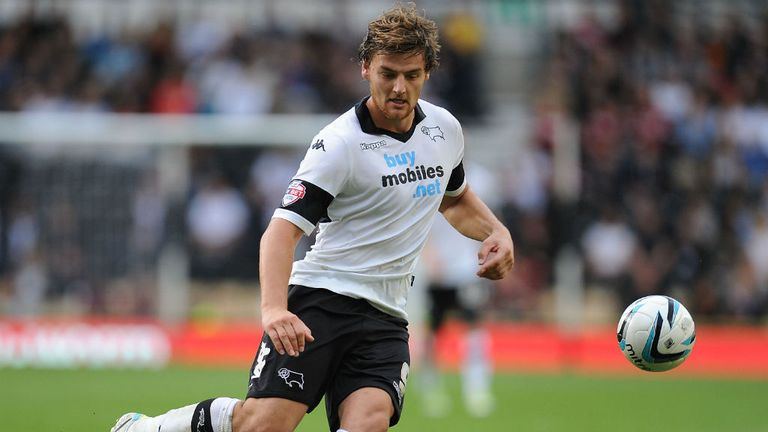 The 2013/14 campaign is now well under way, with divisions beginning to take shape.
Here at Sky Sports we will look to take you to the very heart of the Sky Bet Football League over the coming months, with our Spotlight features intended to give you a greater insight into the clubs and players that keep us on the edge of our seats.
We hope to bring you the views and thoughts of a representative from each of the 72 teams over the course of the season, with those involved asked to give their take on the division they compete in, the club that pays their wages and those we should all be keeping an eye on.
Derby's Chris Martin is next into the hot-seat, with the Rams striker taking time out to discuss Steve McClaren's impact and goal targets with Chris Burton.
Three wins in a row, fifth in the league, life's pretty good at the moment isn't it?
Yes, things are going very well at the moment. Obviously we aren't getting too carried away, no prizes are handed out in December, but hopefully we can keep this form going into a busy period over Christmas and carry on winning games.
You've only lost once since Steve McClaren came in - and that was to QPR - so he's had the desired impact hasn't he?
Most definitely. I think we were even a little bit unlucky to lose at QPR, to be honest with you. We played very well in the second half and were unlucky to lose that. But we have played very well under the new manager, have scored a lot of goals, have won away and won at home, and that's obviously a great combination for us.
Do you feel the tide would have turned anyway? Was the potential always there, it just needed to be unlocked?
I think so. We all knew what we had and the ability that we had in the dressing room. As players, we saw that even under the old manager. It's a credit to him the way he assembled the squad and the characters that he got in the group. I think the character is even bigger than the ability sometimes, and we have got a great set of lads in the dressing room. I know every club says that and every player will say that, but we have genuinely got a really good dressing room and everyone is pulling for each other in there. We knew that we had something pretty decent in that dressing room, and now we're starting to show that.
That said, former England managers don't come around too often do they, so it was a great opportunity both for him and the club?
Definitely. It's great for us players to work with someone who has got that much experience in the game. He obviously worked with England and he worked in Holland, he's worked at Middlesbrough and at some big clubs. He's had success as well so it's a great opportunity for him to show people how good he is as a manager and it's a great opportunity for us players to work under him. Obviously, we are having a bit of success at the moment.
Having spent time working with him, do you feel that he has got something of a point to prove after what happened with England and then at Nottingham Forest?
He doesn't give that impression, no. I don't think he seems too worried about proving points to anybody, he's just doing it, firstly, for the love of it and for himself. I don't think there is an agenda there whatsoever. Whether people choose to think that there might be... but I don't think there is. I just think it's an opportunity for him to manage a big club and a great club like Derby. Hopefully we can keep being successful.
He has got you playing with freedom - top scorers in the division - that must be great for you as a frontman?
Definitely. There are always chances. Every game, I will get a chance or two, it's just up to me to keep getting myself in position to keep scoring goals. There is nothing better as a frontman than scoring goals and winning games, I'm hoping that can continue. We have also had a lot of people chip in from elsewhere - Bryso's got seven league goals from midfield, Wardy, Johnny Russell, everyone is chipping in. If that keeps happening, then obviously we are going to keep scoring and winning.
Away at Wigan on Sunday, was that as good a result as you have had this season - one which cost Owen Coyle his job?
It's one of the better ones, yes. We had a great first 45 minutes, we caught them a bit cold in the first half and were 3-0 up at half-time. We made it a little bit difficult for ourselves in the second half, we'll address that and know we can improve. That's a good thing, that we played that well and got that good a result but there is still room for improvement, which can only bode well for us.
What's the plan from here, is it just to get through December and see where you are in the New Year?
It's an old cliché, but you have just got to take it game by game. You have got to prepare right for each one, you have got to keep your focus, you can't look too far ahead and just keep trying to win games. We want to be in and around the play-off places and the automatics for as long as we possibly can, for the rest of the season hopefully. If we keep doing the things that we are doing at the moment, we will definitely be there or thereabouts.
On a personal level, you're onto nine goals for the season so are you setting yourself any targets - 20 is the magic number for any striker isn't it?
Personally, I would just like to get to double figures as soon as possible and then go from there. I have got a personal target in mind, that I'm hoping to reach, but you have just got to focus on the next goal and work as hard as you can to get that next one. Hopefully the next one will then come soon after. We create so many chances as a team that I'm sure I will keep scoring if I keep getting myself in the positions.
You have been playing regularly, has that really helped you - knowing you have the faith of the manager and that you don't have to worry about one mistake costing you your place in the side?
I think so, yes. It's nice to play regularly. I have had a couple of years where I've had a few loan moves and I wasn't playing regularly, which was difficult. But I've settled into the area really nicely, my partner and my two kids love it, and I love it. I'm playing every week, we're scoring and winning games - everything is going really well at the moment.
So you were delighted when Derby snapped you up permanently over the summer - it just felt right?
Definitely. I think it's a great club and I have been very lucky in the fact that the old manager wanted to sign me. I'm happy to be here and hopefully I can keep working hard and we can be successful as a club.
It must have been difficult to leave Norwich - being a home-town boy - but you're only 25 so I imagine you believe there is plenty of time to get back to that level?
I think there is. Everything is in place here. As a club, the infrastructure of the club - from the training ground, the stadium, the fan base - everything is here to go to that next level. It's just a case of doing it on the pitch, which is easier said than done. We'll have to wait and see, but I think all of us in the dressing room would like to be playing at the next level.
Chris Martin was talking to Sky Sports on behalf of Sky Bet, the Title Sponsor of The Football League.
For a wide range of match odds and specials on all Football League matches and a £5 free bet every week, go to skybet.com.