Into the Lions' den
Millwall manager Steve Lomas discusses taking on a second tier challenge and his management path.
Last Updated: 20/12/13 1:04pm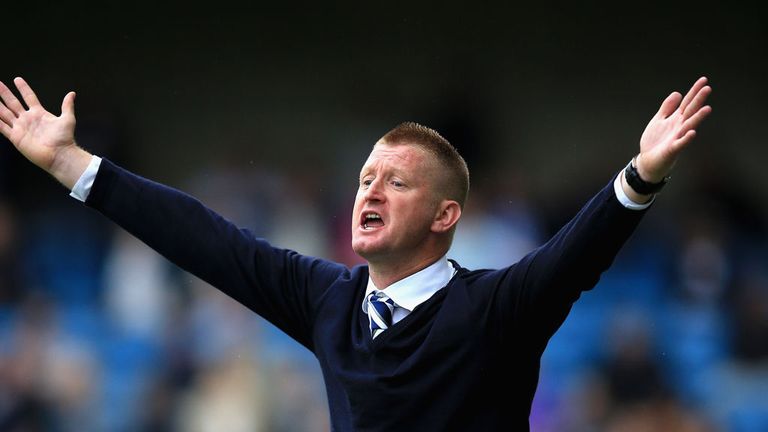 The 2013/14 campaign is now well under way, with divisions beginning to take shape.
Here at Sky Sports we will look to take you to the very heart of the Sky Bet Football League over the coming months, with our Spotlight features intended to give you a greater insight into the clubs and players that keep us on the edge of our seats.
We hope to bring you the views and thoughts of a representative from each of the 72 teams over the course of the season, with those involved asked to give their take on the division they compete in, the club that pays their wages and those we should all be keeping an eye on.
Millwall's Steve Lomas is next into the hot-seat, with the Lions boss taking time out to discuss second tier challenges and his management path with Chris Burton.
We're 20 games into the season now, do you feel that things have started to settle down a bit?
They are. We've got the home form going, but the away form seems to be deserting us a bit at the minute. We are definitely conceding too many goals. We are scoring enough, but it's just about getting the balance the other way, defensively.
You came into the job with your eyes open in the summer, you knew there were going to be challenges didn't you?
I think so. We knew that. We knew the type of league it is, it's very competitive and everybody can beat everybody. For a team like ourselves, we have got to be foot to the floor to pick up wins in this league.
The hard work never stops does it and you've got three big games to take you through to the end of the year, against sides in and around you?
It's a good opportunity, in quick succession, to pick up wins and push yourself up that league. But obviously, in the reverse sense, if you don't pick them up, teams get ahead of you. It is a big period and a big challenge for us, obviously starting with Middlesbrough. They have dropped points in their last two games but you're talking about fine margins and they were probably unlucky in both games not to pick up the win.
You're at The Den on Saturday and, like you say, the home form has been really encouraging of late hasn't it?
It has. Seven unbeaten at home is a decent run. We want to try and keep that going. We have got an opportunity to try and get that away form as well - away to Doncaster and away to Watford afterwards.
Having had a good look at the Championship, what do you feel it takes to be successful and consistent at that level?
It would probably be easy to say that money and budgets are a big factor. You need to get a harmony and a work ethic week in, week out and you've got to have good players - it's as simple as that. It was always going to be a season of transition with the new management coming in, new players coming in and the ideas, so the idea is to be in the Championship at the end of the season and then kick on.
Goalscorers are key at any level, is that an area that is a bit of a work in progress?
I think we've done quite well at that end, we've scored more goals than QPR. That hasn't really been the issue, we have just been conceding too many. There have been too many individual errors and mistakes that have hurt us. Goalscoring and going forward hasn't really been the issue this season.
It shouldn't be should it as you have plenty of proven frontmen in your squad?
We have got some good players here who can score goals - Scott McDonald, Steve Morison is getting going. Martyn Waghorn has gone and we'd love to have him back, we've got Andy Keogh, Jermaine Easter can score goals, Liam Trotter. That hasn't been the problem, it's just keeping the door shut. We have let a few too many goals in. Even if we had let 30 goals in, we would probably be in mid-table safety.
You'd like to have Martyn back, but is any other movement in January likely to be loan-based or does it depend on what you manage to get out?
I think it's a bit of both. The problem I have is that when I came in, most of the budget was gone. The majority of it was gone so we had to wheel and deal to get some players in. It's tough. English football now, it's not like it was a few years ago when there was massive amounts of money about. We have to wheel and deal and we'll look at doing that in January again.
On a personal level, are you enjoying it - was this the right job at the right time?
Yeah, it was a great challenge. I wanted to get back down south and it's a great challenge for me. It's a really good club, great people working here and a passionate fan base, so it was a no-brainer for me.
You had a really good grounding at St Johnstone didn't you, a club that has been a springboard for a few good coaches in recent times - Owen Coyle, Derek McInnes, Paul Sturrock.
It's a proven club for young managers going in there and then springboarding to somewhere else. It was a great grounding. But I'm still learning and I'm enjoying every day of it. There are always challenges, but all managers have that. It's great to be furthering my education in management and I'm certainly enjoying it, that's for certain.
What's the target now, would a top-half finish be a solid step in the right direction for Millwall?
I think so. In terms of where we are at, with our resources, if we can get top-half then that's a job well done. But we know it's tough and that you have got to have a little bit of luck along the way. That's something that we probably haven't had much of this season with injuries, sending offs and decisions at key times going against us. I suppose a lot of managers can say that, but we feel we haven't had our fair share.
Steve Lomas was talking to Sky Sports on behalf of Sky Bet, the Title Sponsor of The Football League.
For a wide range of match odds and specials on all Football League matches and a £5 free bet every week, go to skybet.com.