Craig Mackail-Smith, Kevin Davies and Guy Branston on what the FA Cup means to them
Kevin Davies, Guy Branston and Craig Mackail-Smith on why the FA Cup is still magical.
Last Updated: 12/01/14 3:26pm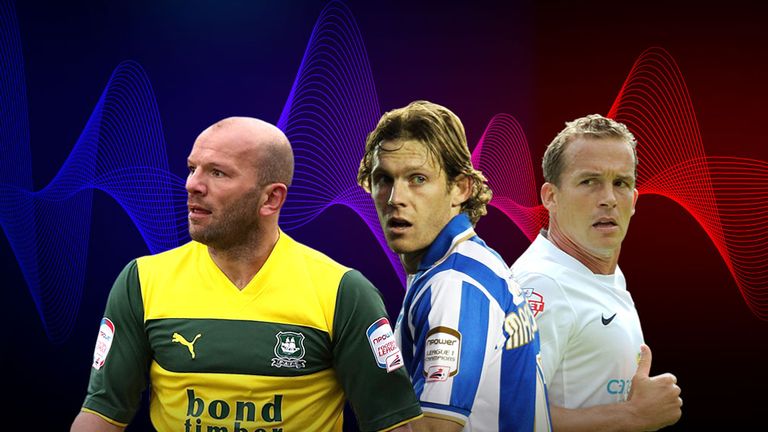 As well as a weekly blog from striker Kevin Phillips, we will also be speaking to some seasoned campaigners in the Football League.
Brighton striker Craig Mackail-Smith, Preston frontman Kevin Davies and Plymouth Argyle defender Guy Branston - who all appear on Sky Sports News Radio's Football League Hour - will be chatting to us about all manner of footballing issues.
Last weekend saw the Premier League clubs enter the FA Cup at the third round and each of our Football League Blogger's clubs were in action in English football's most historic domestic trophy.
But, has the FA Cup lost its magic? We asked our trio what the competition means to them, how it can affect their season and which club would be their dream draw...
CRAIG MACKAIL-SMITH
If Plymouth win their replay then they'll meet my team Brighton in the next round - though I won't be able to take part as my recovery is not quite there yet - it would interesting to come up against my friend Guy!
We played very well in our third round game against Reading last weekend. The team were very commanding in the first half and the opposition didn't really have any chances. I think the players that the gaffer brought in - as he was resting a few- performed brilliantly, we would have probably have had a few more goals in the second half but the most important thing was getting a result, getting through to the next round and not picking up any injuries, we did the job.
The FA Cup is a good distraction for us at the moment. Obviously the main aim of the club is to get in to the Premier League. But a Cup run can sometimes break the monotony of that and if you get a good tie against a Premier League team, the club earns some money and as a player you get the chance to test yourself against the best and that can even result in a move to another club.
I think if you can beat a team that is top of the Championship or in the Premier League you can take that confidence in to the league with you, but you do need to be wary of picking up injuries and risking players that need rest because at the end of the day the league is the most important thing and getting promotion is the main aim.
Unfortunately I do think the FA Cup has become secondary, for Premier League clubs especially; their survival is worth so much that they will sacrifice anything for it and if that means not performing as well and not playing their full strength squad in the FA Cup then they'll take that.
My personal highlight from playing in the competition was for Peterborough when I scored an equaliser against West Brom at the Hawthorns in the about the 87th minute. We'd taken about four or five thousand fans to the game so it was an amazing a moment. When you're in the lower leagues and you get to put yourself against Premier League opposition you take it and enjoy it as much as you can. It's a shame that the FA Cup is losing its excitement and passion.
My dream draw would have to be someone like Manchester United or Arsenal away - one of the big teams. To go to their grounds and take them on and see what you could do if you feel you've got some of the ability to match the best players in the world.
KEVIN DAVIES
We're pleased to be in the hat but after the game we were a little bit disappointed that we didn't win. We played really well against a top Championship side in Ipswich and I think we created the better the chances and controlled the game in parts, but we're pleased we've got another chance with the replay.
We wanted to test ourselves against a Championship side because that's where we want to be playing next season and I think we passed that test. And God am I happy to get on the score sheet again!
If we win the replay we'll meet Nottingham Forest in the fourth round. I watched their game against West Ham at home with my lads; they took a young Hammers side apart and Forest played really well.
It's another Championship side draw - I think we were all hoping for a Premier League side. When we pulled Forest there were a few 'ooohhhs and ahhhhs' amongst the boys but if we get through the third round replay it's another ground we get to play at and hopefully we can cause an upset.
We know where our priorities lie this season but of course they're different for every club. If you look at Macclesfield, they were delighted with a draw because of the finances they can now go up to Hillsborough and earn some more money to keep the club going.
I do think the FA Cup, as Paul Lambert says, has gone down the pecking order a little bit; kids now want to go out and win the Champions League but my generation was all about the FA Cup and we all sat down in front of the TV to watch the final. They were big occasions for the family and now it's lost that appeal with the Premier League and Champions League being in the spotlight.
For me it's still a great trophy - I've had a few near misses from winning it - and for Preston it would be great to go on a good run, it all helps with the feel-good factor around the place at the moment.
We know it's not our priority but it's certainly another game we want to do well in. If we can get past these two next teams it's only going to add confidence to the squad and we can use it to help us hopefully.
I remember going to a semi-final between Sheffield United and Sheffield Wednesday in 1993 - I'm a United fan and we lost that one 2-1 on the day which was heart-breaking but it seemed like the whole of Sheffield had descended on London. I remember going down on the coach with my family and it was a great day out for everyone even though we lost.
If we get past Ipswich and then Nottingham Forest you start thinking we don't want to draw the bigger teams in the next round. When you're getting near the quarter-finals you start fancying yourselves in the games. As players, a lot of our boys would have liked to have been drawn against a Prem side, maybe in round three for the big day out going away to Old Trafford, Anfield or the Emirates.
I think if we can get through to the fifth round then we'll have done really well to beat two top Championship sides. If we do that, of course it would be nice to get a Prem side at home to see where we're really at.
GUY BRANSTON
We showed such fantastic spirit, which has been brewing for a while in our draw with Port Vale last weekend. There's a real never-say-die attitude around the place and we quote 'one more round' - which is from our fitness coach John Harbin - when the chips are down and we just fight that one more round. We did that on Saturday and we're showing that kind of mentality within our group now which makes us go forward as a squad and as a group of people.
If we win the replay at home we'll face Brighton in the next round and my fellow blogger Craig Mackail-Smith; we were team-mates at Peterborough and it's nice to have that carrot there to kick-on so we can get that match. It's always great to play Premier League clubs, but it will also be nice to play a wonderful Championship club and have them come down to our stomping ground and bring a big crowd with them to put money in the coffin.
It's an incredible thing what Paul Lambert said but this is a man who has probably never played lower league football and probably doesn't understand the concept of what the FA Cup brings to the lower league football fan.
Underneath the top division the FA Cup is a fantastic occasion for a player to play in and our FA Cup final for lower league fans and footballers is pulling a Premier League club in the third round because the chances of us ever winning it are incredible.
I think it's nonsense that FA Cup is losing its magic. The Premier League is so powerful now that managers come out and say things to keep themselves in jobs and to keep themselves in the limelight. I think it's a fantastic occasion, a fantastic Cup and really gives lads that David and Goliath opportunity. They're a lot of players that have a good Cup run and earn big moves from playing against top sides.
If you go on a good Cup run your confidence can go through the roof. I did it with Kettering and with Rotherham. I went to Liverpool with Rotherham in the FA Cup third round and we were beaten comfortably but we got to play against the top players in the division and we showed for 50 minutes that we could do it. It gives you confidence, a chance and it makes you relive your youth - you've aspired to play against the top players in the top divisions in the FA Cup. It sounds cheesy but if you don't get a buzz off of playing in the FA Cup then pack in football.
I would love to play Man United at Old Trafford with a full house. I had a the chance to go there as a fan of Leicester City when I was a child, it was in the League Cup, we got absolutely battered and I went back to supporting Leicester City from a brief stint as a United fan and going to Old Trafford as a kid was unbelievable.
Don't forget to tune in to the Football League Hour every Thursday night at 7pm on Sky Sports News Radio or download the podcast here