FL72 Review: Andy Hinchcliffe reflects on the Football League weekend
Every Monday night, the Sky Sports experts will review the weekend's Football League action on FL72. Check out Andy Hinchcliffe's thoughts on the latest round of fixtures...
Last Updated: 15/01/14 1:19pm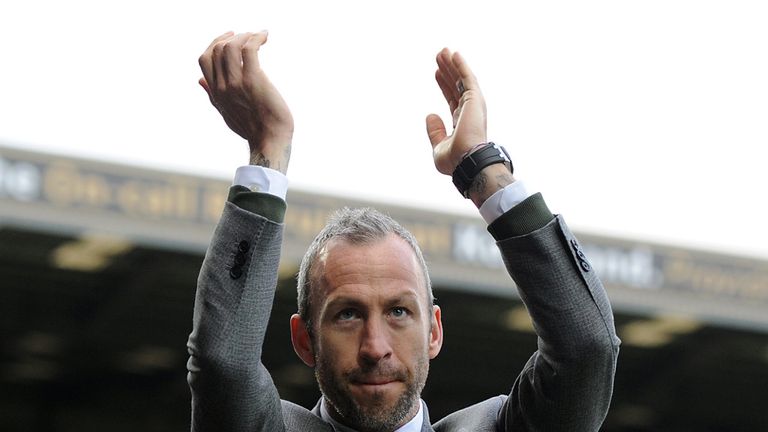 ANDY SAYS: The 6-0 thrashing of Leeds stands out but Wednesday played ever so well and they scored terrific goals. Leeds, though, were diabolical. Brian McDermott called it a humiliation after the game and that's what it was. They were that bad. If a team does as well as Sheffield Wednesday did and a team plays as badly as Leeds did it's no surprise they end up getting well beaten. The press spoke to Milan Mandaric after the game and he was a bit coy. There were a couple of wry smiles and I think he knows Stuart is his man to take the permanent manger's post. He's done everything right as caretaker, not just in that one performance, but since he's taken over from Dave Jones. They've tightened up at the back, they're keeping clean sheets, scoring plenty of goals, playing well and playing with confidence. Surely he's got to be the man for Sheffield Wednesday.
Nahki Wells showed his pedigree with a late winner against Millwall
ANDY SAYS: It was a little bit of a surprise he went to Huddersfield, for me. I'm sure there would have been a lot of clubs looking at him, although not necessarily Premier League clubs. That's because he's a great finisher, he's a poacher and can score all types of goals - and his goal on his Huddersfield debut against Millwall was a brilliant goal. Maybe it just suits Wells to go there, especially if he wanted to stay in that part of the world, after being at Bradford for so long. If he's happy his football is going to blossom, he's going to do well for Huddersfield and maybe even move them on into the Premier League. Huddersfield have been looking to bring in strikers like this who can score key goals and turn a point into three, which gives you a chance of pushing on towards the play-offs.
The three-way fight for the League One title is intriguing
ANDY SAYS: Brentford have taken 40 points from a possible 42 and that just shows what Uwe Rosler left behind. This is a solid club with a good, hard-working bunch of players. If you're Mark Warburton why would you try and change it? Uwe Rosler was doing everything right and they've just carried on. I think that's good management. At times you don't need to stamp your authority on it, just continue what the previous manager was doing and the good form continues. As for Leyton Orient, no one expected them to start the season like they did and everyone's waiting for them to blow up and fall away. Russell Slade must be delighted they've kept going and, considering they're up against Brentford and Wolves, to still be in the mix for automatic promotion says something about their character. Wolves need a pair of strikers - that's what Orient and Brentford have. Leigh Griffiths has 12 but the next is on six, so they need somebody to step up. They've just signed Nouha Dicko from Wigan, so Kenny Jackett is obviously looking for another striker to take the load off Griffiths. That might be what they need and that could be the difference.
Shaun Derry has impressed since taking over at Notts County
ANDY SAYS: Notts County were bottom of League One and looked dead and buried when Shaun took over. You're never quite sure when a player steps into a managerial role how it's going to go but he's galvanised the team, got them believing and confidence is high. They've won four of the seven games he's been in charge for and they've really turned the corner under him. Wherever you are in the league, if you're low on confidence it's a major problem - but when you're rock bottom it's even harder. So Shaun going in there has shown his man management skills. The fans may have been pleased to have him back but it's about the job he does and he has applied himself very well, very quickly.
Scunthorpe remain unbeaten under Russell Wilcox
ANDY SAYS: Scunthorpe were doing well but to get striker Paul Hayes back at the club for a third time, what a signing. The couple of goals he scored on his third debut are absolutely fantastic - the first is an absolute peach into the top corner and the second is more of a poacher's goal. Scunthorpe are on an amazing run and with Hayes in the side now, fully fit and firing, they're looking good for promotion. Wilcox will want this run to continue as long as possible but with the form they're in and with their confidence high I don't see any reason why they're going to get beaten any time soon.
Click here to watch video highlights from the Football League weekend.