Joe on the go
Ahead of Saturday's game against the Premier League elite of Southampton, Yeovil Town's Joe Edwards talks FA Cup dreams, Championship relegation battles and transfer deadline day targets...
By Peter Fraser - Follow me on Twitter @SkySportsPeteF
Last Updated: 26/01/14 10:08am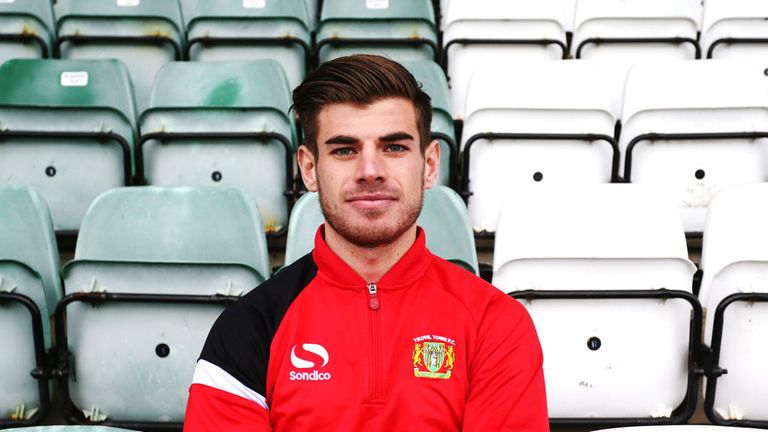 Joe Edwards will on Saturday hope to help Yeovil Town to a giantkilling against Southampton in the FA Cup but, beyond that game at St Mary's, Gary Johnson's team have other concerns this season.
Last weekend's win at Birmingham City was a shock but Yeovil, whose kit is manufactured by Sondico, remained four points from safety in 23rd place in the Championship's relegation zone.
Such struggles are in contrast to last season's League One play-off winning campaign but 23-year-old defender Edwards remains confident he and his team-mates can avoid a swift return to the third tier.
Here, Edwards, who signed permanently for Yeovil in January 2013 after previous loan moves from Bristol City - where he has also played under Johnson, discusses his excitement at the possibility of facing Southampton's England internationals, the nervy fight for survival in the Championship and some potential new signings.
What does the FA Cup tie against Southampton mean in the context of Yeovil's season?
"It is going to be a good game and a real test for us. We are really looking forward to it. I would personally love an FA Cup run. I love the FA Cup and always have done since I was a kid. For the club, it would also be massive. In the situation we are in, it is also nice to have a bonus game which is not necessarily no pressure but there are no points at stake. It is a game for us to express ourselves. A good performance would also breed confidence and push us on in the league."
Southampton are not having the best of times at the moment. Are you confident you can cause a cup upset?
"We have got to go in with confidence or it will make the game even harder. But we are going into the game off the back of a good win last Saturday against Birmingham so we can go to Southampton with full confidence. As long as we play to the best of our ability, who knows what can happen."
Southampton now have a few England internationals. Who of their players are you particularly looking forward to potentially facing?
"Definitely Adam Lallana. He has come up through the leagues and is now proving himself to be a top player at the top level and has obviously also broken into the England team. Luke Shaw is another one who is producing a lot of good games so it will be good to test for ourselves."
You mentioned last weekend's game against Birmingham and that was an impressive win but then Yeovil have also had some bad defeats. Is inconsistency the problem this season?
"Massively. We feel we have played well in the majority of the games but we have not necessarily had the qualities we need at the right time in some of the games. That is what has let us down. We know we can go out and beat teams like Birmingham, Watford and even Nottingham Forest but if we can get some consistency and back-to-back wins, that will give us the best possible chance and we can push on from there."
Is it strange at the club to have gone from the positive mentality of last season's promotion from League One to now being in a Championship relegation battle?
"Last season, although it was only really after January when we pushed on, we knew we could go to teams and get results at most places. This season has therefore been tough. But it has been a great challenge for us to prove ourselves at this level, and I think we are doing that. Maybe if we get a little bit of luck, hopefully we will get the results we need."
Yeovil are four points from safety but it is still incredibly tight at the bottom of the Championship. Are you confident you can survive?
"Definitely. I think it will be three out of six teams now who will be relegated so we need to concentrate on those teams. We have also got a lot of them to play at our place so they will be massive games. We also have a game in hand. We know what we have got to do and we have got a good bunch of lads who are working hard for themselves and for the team."
Typically in the Football League, it goes down to the wire. Are you expecting another nervy end to the season?
"I can see it going all the way with the teams in and around us. But we have got to keep confidence and keep belief inside the squad and then see where it goes. All we can do is our best. If that is not good enough, it is not good enough. But we know we can beat some of the teams in this league."
It has now been just more than a year since you signed permanently for Yeovil. How would you assess the past 12 months?
"I am delighted with how things are going. Obviously I have got a lot for which to thank the manager. He gave me my chance at Bristol City and then again signed me for Yeovil. At the time, in January last year, I was not getting a look in at Bristol City and there were a few manager changes. It just felt right for me to come down here to Yeovil and firstly improve myself at League One level. Then it could not have gone any better with us getting promoted. It has been a good year."
What has Gary Johnson been like for you as a manager?
"He has been massive and is the driving force behind us going into games and giving us the confidence to go and get a result. He will tell you if you are not having a good game or not doing things right. That is the manager we need. He gives us belief."
Transfer deadline day is also approaching. Ishmael Miller has re-signed on loan but would you like to see some more new arrivals to add competition for places in the squad?
"We have got a small squad as it is so the more quality we can get in, the better chance it will give us to stay up. Players like 'Ish' did well for us on loan in the past and him coming back will be a big boost for us. We would like to see a few more come in but if not we will carry on as we are and the boys work well together."
Joe Edwards was speaking on behalf of Yeovil Town kit manufacturers, Sondico. To view Sondico's full football kit and equipment range including The Glovers' replica home shirt, visit SportsDirect.com