Familiar faces
Birmingham City forward Lee Novak discusses a reunion with Huddersfield and adapting to change.
Last Updated: 14/02/14 2:14pm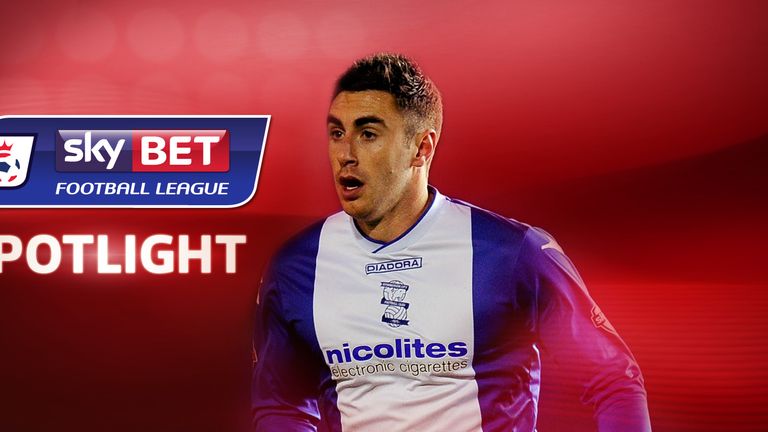 The 2013/14 campaign is now past the halfway stage, with divisions beginning to take shape.
Here at Sky Sports we will look to take you to the very heart of the Sky Bet Football League over the coming months, with our Spotlight features intended to give you a greater insight into the clubs and players that keep us on the edge of our seats.
We hope to bring you the views and thoughts of a representative from each of the 72 teams over the course of the season, with those involved asked to give their take on the division they compete in, the club that pays their wages and those we should all be keeping an eye on.
Birmingham's Lee Novak is next into the hot-seat, with the Blues forward taking time out to discuss a reunion with former employers and adapting to change with Mikey Burrows.
What will it be like for you this weekend going up against Huddersfield?
It's going to be good playing against old team-mates and against the club that gave me my chance in the Football League. It's going to be a good one, hopefully it will be a good game and we can get the three points.
I know you've already done it once this season, but is it still strange whenever you come up against them?
It's strange going up against your friends who were your team-mates for four-and-a-half years, but that's part and parcel of football. I've got friend at other clubs that I have played against as well. It will be good to see them, but hopefully it's a bad day for them and we can win the game.
It's not the only connection is it, because Lee Clark was your manager there and brought you to Birmingham?
The gaffer obviously took me from non-league to Huddersfield, and then he brought me from Huddersfield to Birmingham as well. It's great to be working with him again.
What is it about your relationship with him, he's done a lot for you hasn't he?
He's been massive. He's been one of the biggest influences on my career. Having the trust in me from non-league and taking a chance on me because I'd never played in the League before, and then bringing me to a big club like Birmingham only gives me confidence and shows the confidence that he has in me as well.
How have you found things in recent weeks, it's been a bit up and down hasn't it?
Yeah, we started to pick up and then we had a couple of bad results, but I think the whole Championship is like that. Apart from the top few teams, the rest of the teams are quite inconsistent. But we want to put a run together like we did when we went on a 10-game unbeaten run and try to climb that table and get where the club deserves to be.
Is it quite hard at times to put your finger on why you aren't getting results - against Derby, for instance?
It's like that some weeks, sometimes you'll pick up a win when you haven't deserved one and when you deserve to pick up the points, like we have many times this season, we just haven't got the rub of the green or the luck that's needed. We'll just keep going. We showed against Derby what we're about, we had to come back and we beat Charlton, and then we had a disappointing result against Watford when we deserved to take something out of the game.
Like you say, it's been like that for many teams hasn't it, the Championship is so difficult to predict?
Yeah, the top teams find it hard coming up against the bottom teams and vice-versa, it's just the nature of the league. Everyone can beat everyone on their day. It doesn't matter if you're top or bottom, it's just on the day who produces the best form and gets the three points.
So are you looking at the game against Huddersfield and thinking that they aren't that far ahead of you in the table and you can really close on them in that mid-table area?
We go into every game thinking, 'How can we cause them problems?' Saturday will be no different, we want to close the gap on the mid-table teams and try to get above as many as we can and pull away from the bottom and the relegation zone.
And it's an opportunity for a first 'double' of the season...
Yeah, it would be nice to do the double over any team, and Saturday will be no different. We go into every game wanting to win and we'll do the same against Huddersfield on Saturday. Hopefully we'll come away with the three points.
In recent weeks, and in January, there was a big turnaround at the club, what's it like for you and the other players who are still there to see players coming and going?
It was crazy. We lost one of our main players and goalscorers in Jesse (Lingard) going back to Man United and our two centre-halves went back, it was crazy. One day they were there and the next they were recalled and the whole heart of the team has been ripped out. But the gaffer has brought some brilliant players in and this is a time that we want to build as a team as we go forward.
Is it difficult when you keep losing players of quality and you feel like you have to keep rebuilding?
It's not ideal, but it's the club's choice to recall them and involve them in the Premier League. At the end of the day, that's what every player wants to do, play in the Premier League - and that's a chance they are getting now. But the gaffer has brought some brilliant players in from Man United and Man City and they have integrated well into the group. We're starting to look like the good team that we are.
Among those you've got in, Federico Macheda is the one to have obviously caught the eye...
Yeah, Kiko has been brilliant since he's come in. He's got three in three now and everyone has integrated well. Kiko's no different. He works hard for the team and he works hard in training. He's a great guy as well.
How good is he, because we saw him break through a long time ago now?
He's very good. He's not at Man United for no reason. He's played a few games in their first team despite being still quite young. But he's very, very good.
If he keeps scoring and you weigh in with a few goals well, who knows where you could end up?
That's what we're there to do, we want to put on a performance for the team and get the goals. Hopefully all of the strikers, including myself, can keep going and get the goals - Peter Lovenkrands and Zigi can get the goals that get us up that table and, with a bit of luck, we can start climbing the standings.
Have you set yourself a target for goals this season?
Some people do, but I'm not one of them. I go into every game hoping to score and try to get as many goals as I can. I don't set a target and then relax, I want to get as many goals as possible.
We've seen talk again of stuff that's going on off the field with the change in ownership and Carson Yeung stepping down, does that affect the players? Are you aware of much that is going on?
To be honest, the lads don't really take much notice of it. We are obviously aware of what's happening off the pitch, but it doesn't affect us on the pitch and on the training ground. We're paid to do a job on the pitch and do our best for Birmingham City, and that's what we do every day and will keep on doing.
Is it frustrating, though, because I imagine you came to Birmingham with the intention of pushing for promotion didn't you?
We spoke about our aims at the start of the season and maybe we haven't done as well as people expected but, like we said before, we've had a lot of players taken away from us by injuries and by loans. But we're building again and we want to climb up that table and be near the top of the league where the club deserves to be. There is no reason why we can't start that by putting a run together and climbing that league.